The super-rich and celebrity pet owners who owns the rarest, enviable and most exotic pets, loves to splurge heavily to provide them all the luxury of the world, all in an effort to make them feel comfortable and well cared for. Some just loves to have an extravagant replica of their house, or the custom, modernist, one-off designer luxury doghouses for their lovable dogs to live in, while some get the hand-crafted luxury pet tree houses for their pets to use to feel more at home in their natural environment while enjoying the taste of realistic outdoor experience. Also, we have earlier told you about some exceptional celebrity splurges like Paris Hilton got her pets a luxurious pet mansion, a Thai jeweler splurged $4.2 million on a diamond tiara for his pampered poochie, besides the luxury pets that enjoyed luxuries worth of $154,710, and most expensive pet wedding in history that costed $250,000. Here, our edit of the most expensive pet homes further throws light on how much pet lovers can actually spend to confirm the comfortable and luxurious stay of their loved ones.
Heritage hen house
Price: $100,000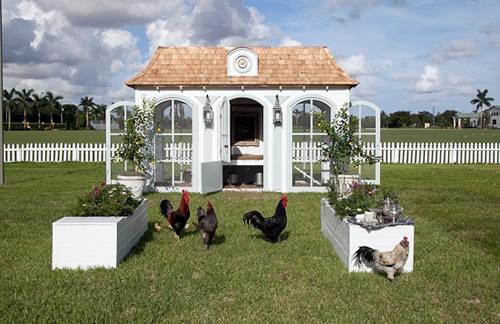 For the affluent hen owners, the luxury speciality retail department store Neimun Marcus offers the Versailies-inspired Le Petite Trianon house which is described as the most expensive hen house ever.
Part of the annual Neiman Marcus Christmas Book 2012, this custom-made multi-level house impressively comes furnished with an elegant chandelier features a nesting area, a broody room, a library filled with chicken and gardening books for visitors of the human kind, a living room for nighttime roosting.
Crystal studded Hello Kitty doghouse
Price: Over $30,000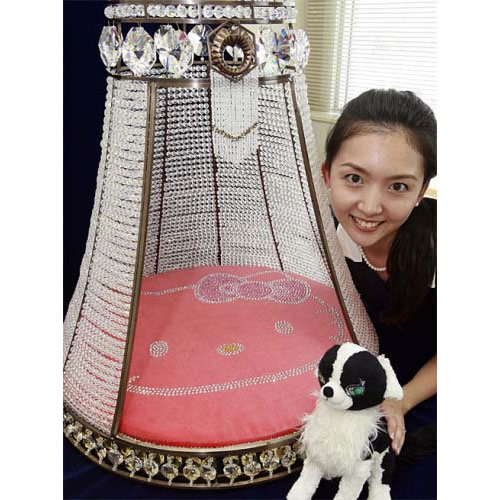 Festooned with 7,600 crystal beads, this blingy crystal studded Hello Kitty doghouse has a pillow in the shape of Hello Kitty's face. Notably, the dog bed has been specially designed for a special sales event in a department store in Tokyo. This one-of-a-kind fancy residence for the pooch who has everything, is large enough for a lapdog like a Chihuahua or terrier, was created especially for a sales event at a Tokyo department store and designed in collaboration with a maker of high-end pet goods.
Custom-made Alabama dog house
Price: $5,350 +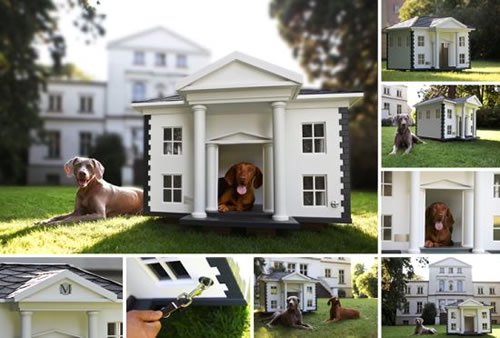 Designed to appeal the wealthy pet owners who have a sense of design and aesthetics, here's the custom-made Alabama dog house that has been hand-crafted from high quality wood and water resistant paint. Created by Best Friend's Home, this dog-mansion boasts imposing pillars, wide entrance steps, lattice windows with unbreakable glasses, real bitumen shingles, a removable roof, and a dormer that covers the entrance and saves it against rain, and has been designed considering even the smallest details.
Mature Tree house from Pet Tree Houses
Price: $1,299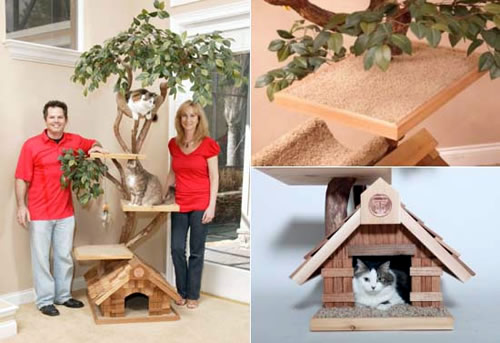 Pet Tree Houses, an award winning manufacturing house of indoor feline habitats run by owners Joe and Shelley offers of pet tree houses that has been hand-crafted from real trees and takes up to 1,000 individuals cuts to build. For the likes of pet owners, the brand now offers a range of impressive indoor feline habitats like the Mature Tree house, Sycamore, Deluxe Seedling, Sapling tree house, to name a few, along with custom special needs trees.
The Mature Tree house crafted from wood, cedar, plush carpeting and synthetic silk leaves, which is just perfect for multiple cats, actually let them climb 7 feet high, play around, and enjoy the comfort of natural environment.
Luxurious Bird Mansions from Extreme Birdhouse
Price: $200 and $2,500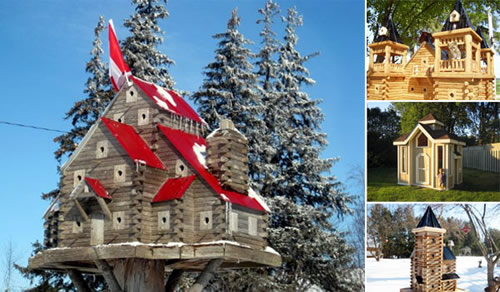 Taking his affection for the feathered creatures to an all together different level, the Canada-based John Looser has hand-created some of the best birdhouses in the world. These beautiful structures have been constructed in the 19th century European style using reclaimed wood.
John Looser, who now owns and operates Extreme Birdhouse, offers an assortment of custom and pre-built eclectic birdhouse, that are, well, extreme. – Bornrich