The Morgan Plus Four has a heritage that dates back over 70 years and includes off-road exploits both for sport and for leisure. Developed from a sketch to a production model with the help of off-road specialists Rally Raid UK, the Morgan Plus Four CX-T honors this proud tradition. A host of modifications elevate it above the standard Plus Four, including EXE-TC Coilover assemblies, Plus Six suspension arms, bespoke bushes, a three-mode locking differential, and off-road tires.
Its rear equipment rack doubles as a safety cage, while the five-piece underbody protection system works with a side-exit exhaust system to enable an aggressive departure angle. Limited to just eight examples. But you can always check the best all-terrain vehicles for sale.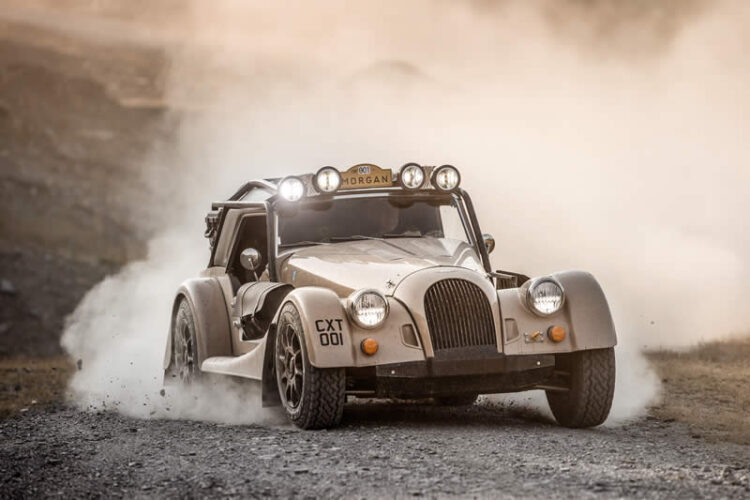 The Plus Four CX-T is a Morgan special project that redefines the capabilities of a Morgan sports car. Opening up new destinations and possibilities, this rugged and capable overland vehicle is Morgan like you've never seen it before. Built alongside experienced Dakar Rally competitors and vehicle builders, Rally Raid UK, every aspect of the Plus Four CX-T has been carefully considered to equip it for overland adventure in remote conditions.
Cx-T: A Sports Car with Adventure at Its Core
What started as a sketch on the walls of Morgan's design studio has been transformed into the most capable Morgan ever produced. The Plus Four CX-T is based on the standard Plus Four with some significant modifications. One of the driving forces behind the project is to demonstrate the strength of the CX-Generation aluminum platform which underpins Morgan's four-wheeled vehicles, as such the chassis of the Plus Four CX-T remains the same.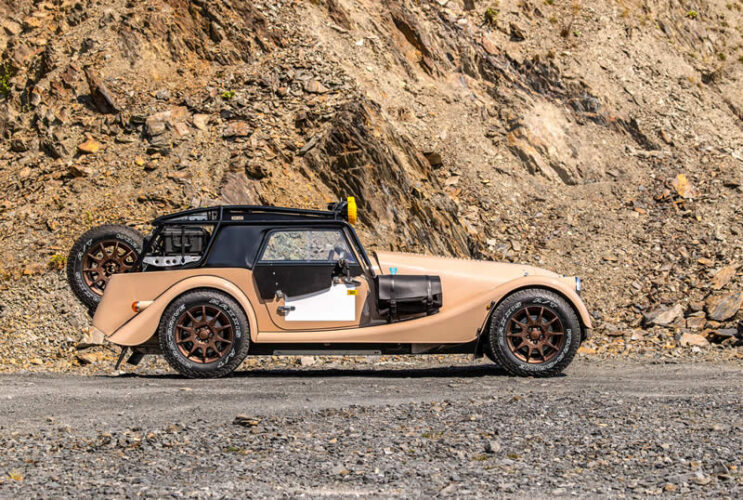 The platform and powertrain are where the similarities end. Rally Raid UK have utilized their significant overland and adventure experience, combining it with Morgan's flair for exciting design and purposeful aesthetic. An exoskeleton that sits on the back of the car houses an endless list of equipment, a bespoke suspension set up, an exhaust system, and larger wheels and tyres are just a few of the upgrades that help to equip the Plus Four CX-T.
Trials: The "T" in CX-T
Almost as soon as HFS Morgan had created the first Morgan Runabout, he was competing in reliability trials up and down the United Kingdom. He, and his creations, were incredibly capable and achieved numerous successes. This success helped to establish the Morgan Motor Company and was hugely important in contributing to its growth.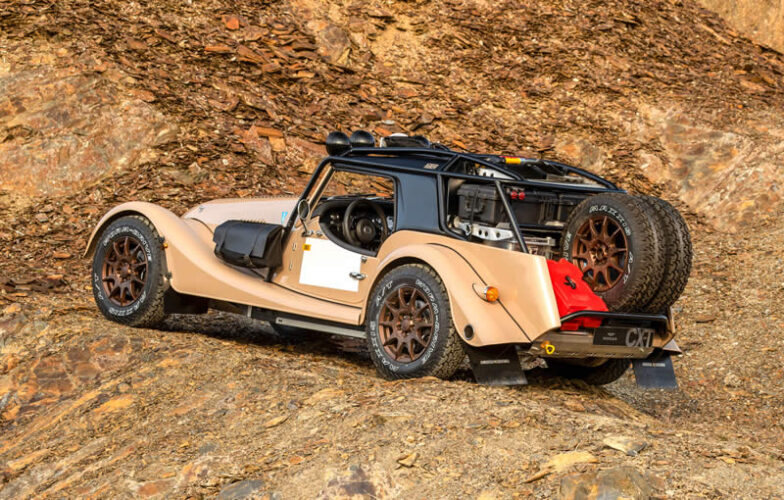 The CX-T project is rooted in Morgan's trialing success and takes inspiration from the incredible journeys that Morgan owners have embarked on over the last 100 years. It celebrates the spirit of adventure that has been prevalent in the Morgan marque since HFS Morgan's first journey in the Runabout.
Endless Possibilities
Load up your luggage, strap down your equipment, and embark on an adventure. Morgan ownership has always been about the journey, not just the destination. CX-T takes that one step further and opens up even more possibilities.
The very nature of the Plus Four CX-T and its raft of modifications means your journey continues, even when the road ends.
Equipped for Adventure
The rear of the Plus Four CX-T has been replaced with an equipment rack that houses an array of specially sourced equipment.
The rack houses two ruggedized and waterproof Pelican luggage cases, a Zarges aluminum tool/storage box, two Rotopax 11-litre containers, and two spare wheel/tyre assemblies. Additionally, for those who venture further off the beaten track, recovery equipment such as sand mats and tow ropes are mounted on the exterior of the car within easy reach when required.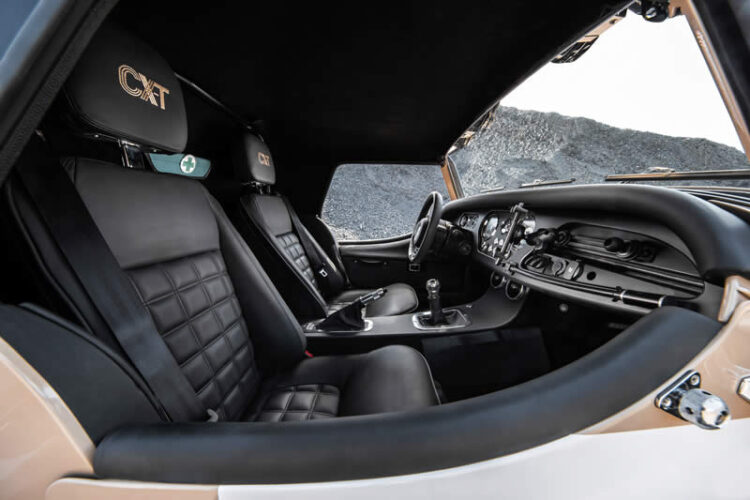 All exterior mounting systems for all storage and equipment have been painstakingly engineered to be tough and easy to access when needed.
Tough and Ready
Whilst the Plus Four CX-T shares the same platform as its road-based siblings, a raft of underbody modifications have been made to ensure it is fit for purpose on harsh terrain.
A five-piece underbody protection system – comprising an engine guard, rear chassis guard, mid-section shield, and rear undertray – helps to protect the chassis and important components from damage when driving in extreme conditions. The car is also fitted with a full bespoke exhaust system with a rear side-exit that improves the departure angle and contributes to 230mm of ground clearance.
Functional Interior
A RAM mount track is built into the dashboard to allow the secure fixing of a variety of devices such as phones or cameras. A flexible map light, pencil, and notebook holder have also been integrated, all designed to withstand operation in harsh driving environments.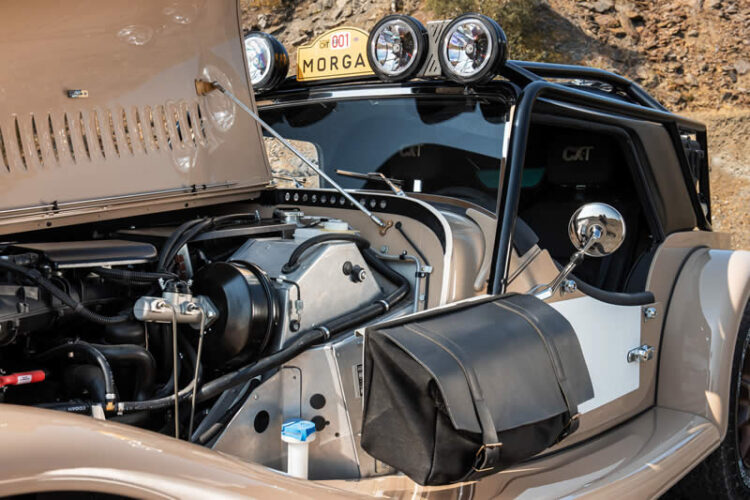 Cabin stowage has also been optimized with the addition of a removable map/document holder and insulated cool bag, both located in the passenger footwell. A custom-made first aid kit is mounted to the internal roll cage behind the seats.
The cabin is enclosed within a composite hardtop which is unique to the Plus Four CX-T and has been intricately engineered to fit between the internal and external roll cages. Side screen stowage has been neatly configured on top of the roof.
BESPOKE SUSPENSION
The suspension has been designed to be expedition-ready: tough and fit for purpose. Durability, and a drive-over obstacle clearance of 230mm, have been achieved using modified Plus Six wishbones. These widen the track and allow for the extra arc of movement required to achieve the desired suspension performance. The wheel arch apertures have also been modified, allowing the suspension to compress deep into the wheel well, providing maximum traction and stability.
EXE-TC Coilover assemblies with internal bump stops are used, these have been specifically developed for the Plus Four CX-T. The lower suspension arms contain bespoke bushes.