In April of 2014, aBlogtoWatch gave-away a UNIQ P-47 Chronograph watch. The lucky winner was Keith S. from Colorado and he was nice enough to follow-up with these pictures of the P-47 Chronograph watch on his wrist, along with an aBlogtoWatch watch winner review: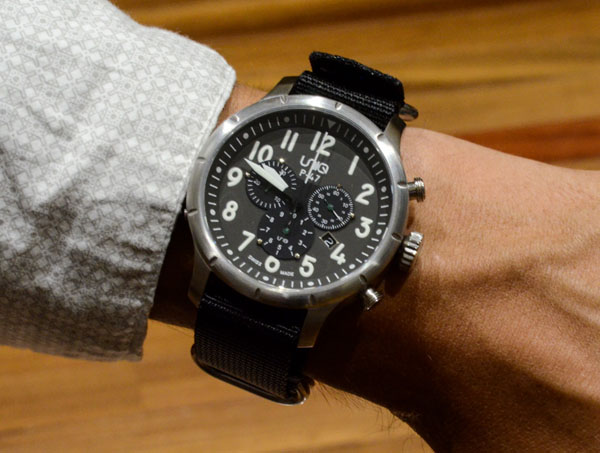 I was obviously pretty thrilled to find out I was the winner of the UNIQ P-47 Thunderbolt watch giveaway a few weeks back. I never win anything! Ironically, my wife, daughter and I had just returned Memorial Day weekend from a wonderful vacation in Hawaii to find a package waiting from Tblisi, Georgia. In Hawaii we made time to see the National Memorial Cemetery of the Pacific. Past its solemn and patriotic tone, on display are a number of incredibly detailed murals depicting many famous air and naval battles fought in the Pacific.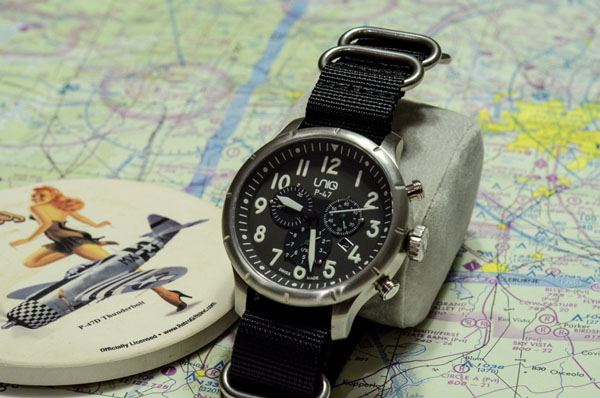 These included heavy use of the P-47 Thunderbolt which directly inspired this watch. On top of that, although not a pilot, my father is an Air Force veteran and instilled a love of all things aircraft in my brother and I from a young age. We'd attend countless air shows, visit air museums on vacations and would be quizzed on aircraft flying overhead, challenged to identify them by profile alone. So, how cool was it to win this watch? The next question you're asking is why did this aircraft inspire a timepiece from a Georgian watchmaker?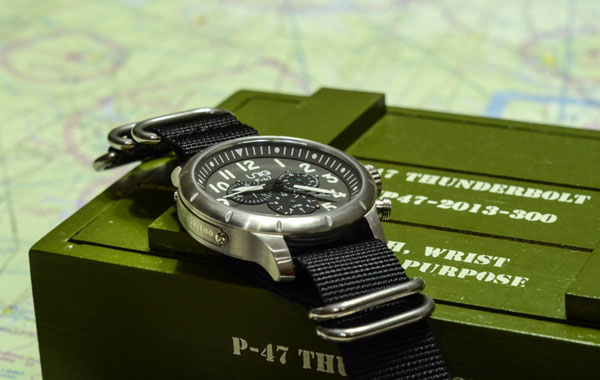 Zviad Tsikolia is the heart and soul behind UNIQ Watches, and is establishing himself primarily by designing a number of extremely limited run "vehicular" themed watches for lack of a better term. UNIQ is also the maker of a watch model supplied to the Georgian Armed Forces. Quite cool. Well, it turns out the P-47 was the most famous contribution of legendary aircraft designer Alexander Kartveli, a Georgian immigrant to the United States. Enter the P-47 Thunderbolt pilot's chronograph, a fitting tribute to the heaviest, most well armed and fastest fighter of WWII, as well as celebrating Tsikolia's Georgian heritage.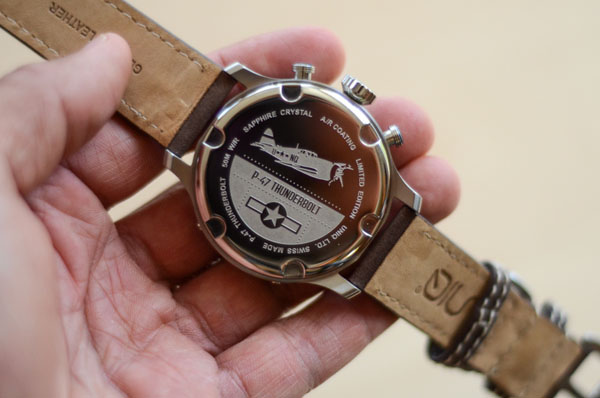 Big ol' WWII bird of prey…meet big ol' pilot's chrono! The movement is a Swiss Ronda 5040, a tried-and-true quartz movement that can do both cumulative and split chronograph timing. One of my favorite things to do is start the chronograph and watch the 1/10th seconds hand spin madly. I immediately start making airplane engine and machine gun sound effects ala Snoopy (I know, wrong war…what you gonna do). This goes over especially particularly well at work. -ablogtowatch