Louis Erard timepieces are barely represented in the United States, but if you see them in Europe or other places you'll quickly find that they are among the better "value" Swiss brands.
[contentblock id=1 img=adsense.png]
Louis Erard watches offer some welcome originality and design refinement, as well as prices that make you feel as though at least a few people in the pricing departments at the Swiss watch brands are sane. Today, I am reviewing the Louis Erard Excellence Regulator Power Reserve watch.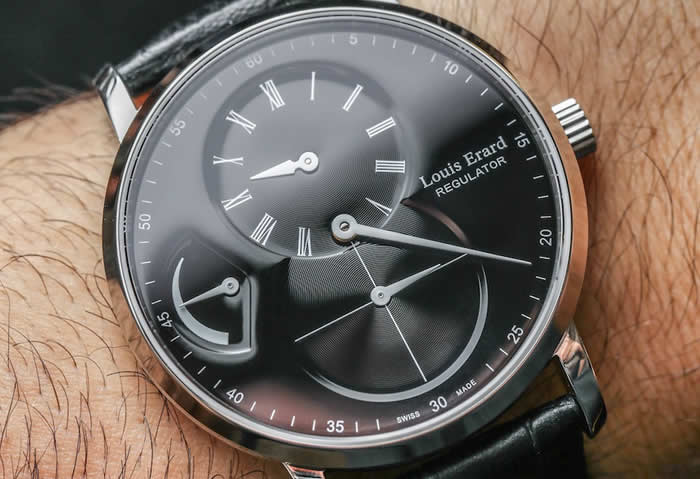 We're looking at a more simple yet interesting Louis Erard watch with the reference 54 230 AA 02 dress-style watch in steel with a black lacquer dial that is also joined in the collection by a similar version with a matte black-coated case (54 230 NN 32) and a more classic-looking model with a white face (54 230 AA 01).
This is part of the Louis Erard Excellence Regulator collection and should not be confused with the similar 50 232 AA 02 model that is essentially the same, but without the handy power reserve indicator. While other Louis Erard timepieces are perhaps a bit more versatile in their use, the Louis Erard Excellence Power Reserve Regulator is a very "specific use" timepiece for those looking to add just this type of style and complication into their life.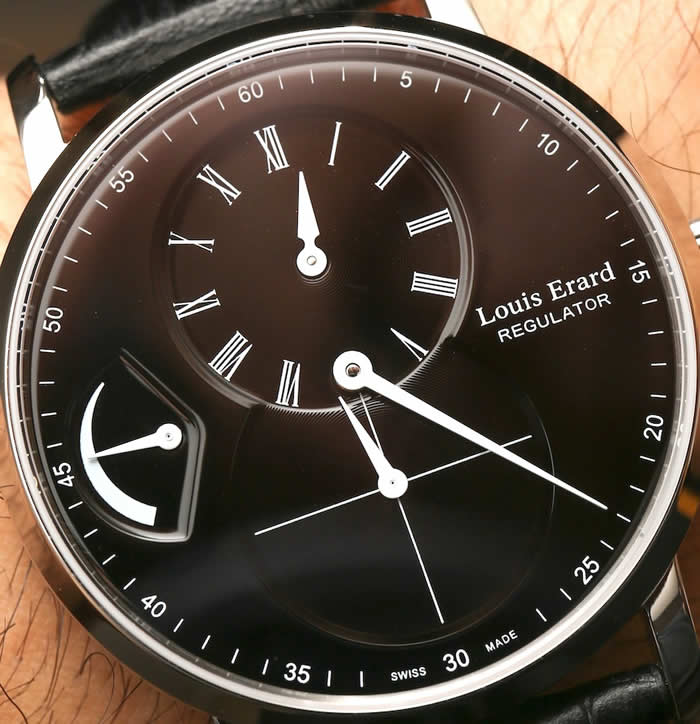 First of all, let me ask you if you know of other modestly sized black-dialed regulator watches with a power reserve under $3,000? I couldn't think of any other off the top of my head either. Thank you, Louis Erard, for filling in market gaps. What I've always appreciated about Louis Erard is their refined approach to using materials and textures as best they can.
[contentblock id=2 img=adsense.png]
Nothing about the case or dial design of the Louis Erard Excellence Regulator Power Reserve is particularly sophisticated or complex to produce, but everything is done nicely for what it is. This is also a rather handsome "alternative" tuxedo watch given its unusual dial design yet utter minimalism. Legibility, of course, is on the better side thanks to the black dial matched with high-contrast white hands and markers.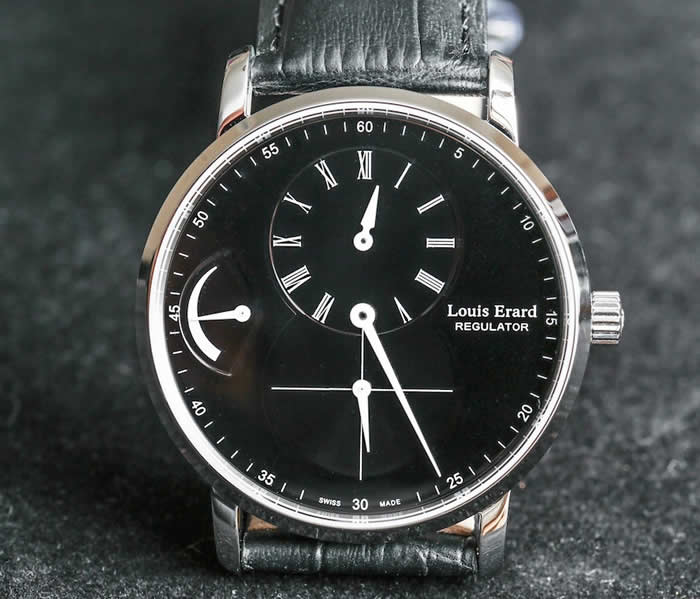 Regulator-style watches tend to be typified by their use of three distinct dials for the hours, minutes, and seconds. Minutes are displayed on the larger main dial while an upper subdial is used to indicate the hours and a lower one is used to indicate the seconds. Of course, here, you also have a power reserve indicator to the left of the dial, which is quite useful. 
Design-wise, the Louis Erard Excellence Regulator Power Reserve's dial is a mishmash of elements taken from traditional (the Roman Numerals) to Bauhaus – and a lot in between. Parts of the face are trying to look like an old-school enamel dial, and other parts are trying to be sporty (the seconds subdial). I would say that the "fashionable" integration is for the most part successful, although I can see how some watch lovers might find the lack of total design cohesion irritating.
There isn't any lume on the dial, which, although not expected, would have been a nice touch. Personally, I find the clean dial of the Louis Erard Excellence Regulator Power Reserve soothing, but at times it can be a bit on the boring side. As an "accessory" in the purest of meanings, this Louis Erard watch will nicely compliment an otherwise nice outfit, but it certainly won't make the outfit. Some watches can do just that, which is why a lot of guys prefer more distinctive sport watches.
[contentblock id=3 img=gcb.png]
Wear a Rolex President, Audemars Piguet Royal Oak Offshore, Omega Speedmaster, Breitling Chronomat, or other such timepiece with an otherwise basic pair of jeans and a t-shirt, and you'll look pretty cool. Wear that with something like this Louis Erard Excellence Regulator Power Reserve, and you'll look awkward at best. I feel the watch needs to be paired with both the right outfit and the right situation to "look the part" properly.