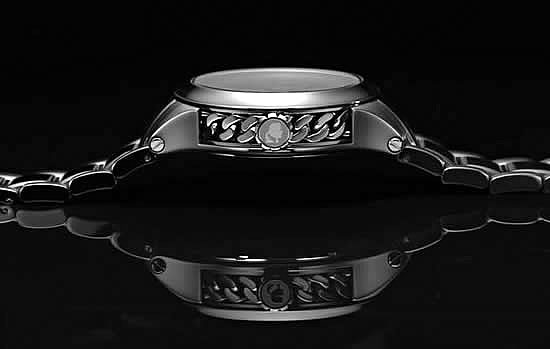 Karl Lagerfeld will unveil six new watches including an innovative model with a zip strap during Paris Fashion Week. The new line is set to go on sale in February 2013, and will be priced from $150 to $595. The collection will be available in 50 stores in North America, Europe and Asia as well as online. According to WWD, locations will include Colette and Galeries Lafayette in Paris, Selfridges in London, Watch Station in Asia, and Bloomingdale's in New York.
In images released by the brand, the watches are shown to feature a silhouette of Karl's head on the crown. Emblematic of the designer himself, they feature quirky details: stainless steel bracelets, metallic leather straps, pyramid studs, and chains. The watches will be produced by Texan manufacturer Fossil.
The watches are timed for release in the middle of the fall-winter 2013 collection shows, and at the same time as the opening of the first Karl Lagerfeld store. The concept store will stock the designer's collections and limited edition accessories, and will span two floors at over 2,150 square feet (200 sq meters). Fashion fans will be able to visit the location at 194 on Boulevard St-Germain, the famous Rive Gauche shopping destination.
Via: Timeslive