ior to the Geneva watch trade show SIHH 2015, watch and luxury goods maker Montblanchas announced it is stepping into the smartwatch market – well, at least the smart wearables market.
[contentblock id=1 img=adsense.png]
The upcoming Montblanc Timewalker Urban Speed collection of timepieces will have an optional strap called the e-Strap (product reference 113827) – perhaps the first smart connected wearable from an established luxury company.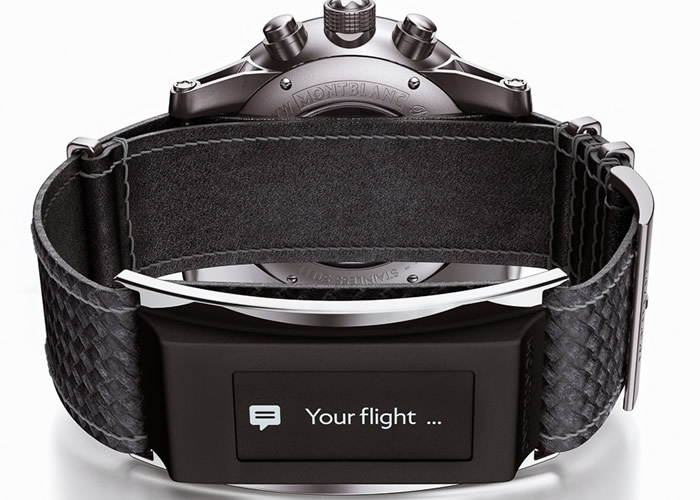 The e-Strap features a high-end leather strap that has a carbon fiber texture to it that Montblanc calls "Extreme Montblanc Leather" and is produced by them in Florence, Italy. At the bottom, sitting under your wrist is an electronic module made from DLC (diamond like carbon) coated steel or in gray steel. Apparently, there are a few color and size options. Why isn't Montblanc simply producing a smartwatch that combines technology with luxury watch design and materials? Well according to most people in the luxury watch world, that isn't what most of their consumers want.
In fact, many hardcore watch lovers face the upcoming dilemma of having to choose between a smartwatch (should they become indispensable) and a mechanical watch. At aBlogtoWatch, we refer to this as the "what I need versus what I want" choice dilemma. So, for Montblanc and other luxury watch makers, they are taking charge by offering what they feel is the ultimate combo – a traditional mechanical luxury watch with a strap that contains a smart wearable device.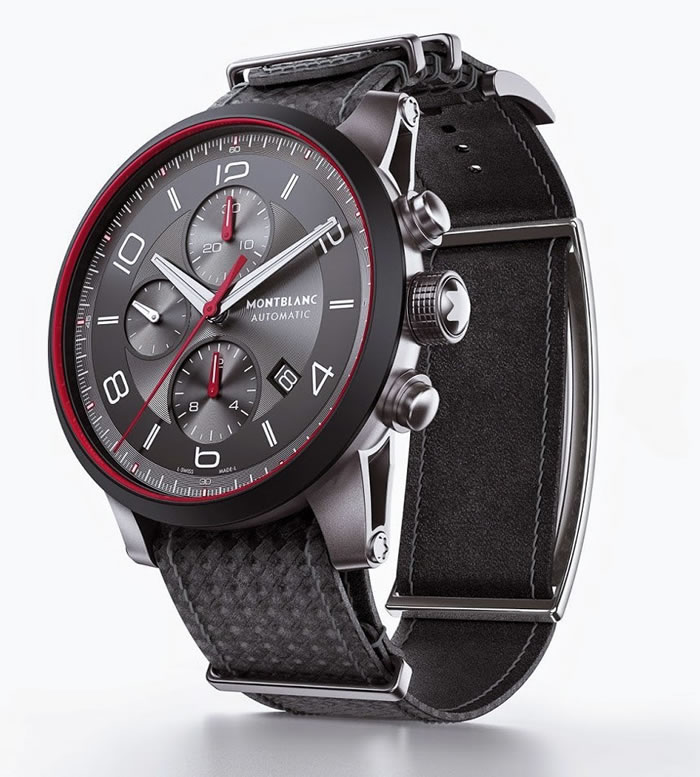 The e-Strap will come on a few of the new for 2015 Montblanc Timewalker Urban Speed watches, but will be available for purchase separately. This is a similar concept as the Kairos T-band, which aBlogtoWatch covered in November of 2014 (a crowd-funded project). Interestingly enough, Montblanc debuted this new version of the long-standing Timewalker collection late in 2014 but did not mention the e-Strap option. That means not all Timewalker Urban Speed watches will have it. The Urban Speed is an attractive, but not revolutionary step for the Timewalker collection, but the availability of the Montblanc e-Strap makes for a totally different story altogether. 
[contentblock id=2 img=adsense.png]
The e-Strap is "NATO-style" in terms of how it is designed and how it connects to the watch. Montblanc has made it clear that the e-Strap is debuting with the Timewalker Urban Speed but will be compatible with all 42mm or 43mm wide Timewalker watches currently or previously available. It should also fit on various other watches with similar lug space sizes (perhaps 22mm wide or so). Of course, if you simply don't want the e-Strap, you can get the Montblanc Timewalker Urban Speed without it.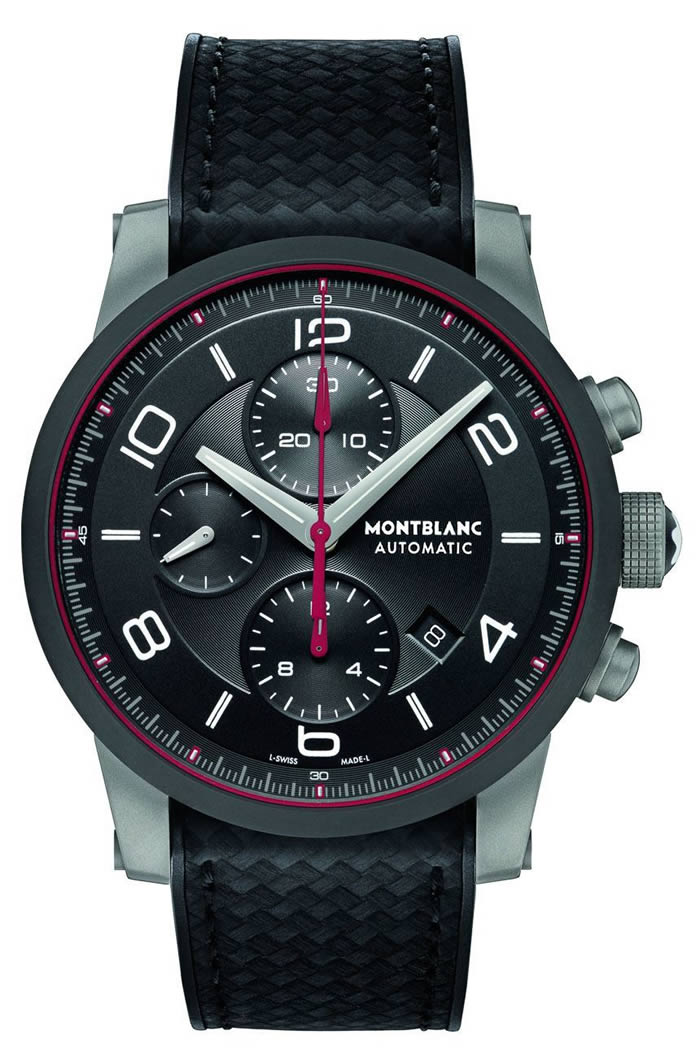 Of course, everyone who has considered using a wearable device wants to know about battery life and, to a degree, durability. Montblanc claims that the e-Strap will offer five days of continuous use between charges with the internal lithium ion battery. It has a micro-USB charging port right in it. Montblanc claims that the e-Strap is shock resistant and splash resistant. Any wearable device that sits under your wrist will need to have some extra durability given how often people rest their hands on desks and tables. In terms of size, the Montblanc e-Strap is 40mm long, 14.2mm wide, and 9mm high (thick).
[contentblock id=3 img=gcb.png]
That isn't terribly small, but I think it can work without looking like a tumor on the underside of your watch strap. As an interactive connected wearable device, the e-Strap is thankfully more than just a unidirectional notification device. With more and more interest in smartwatches, I think it is fantastic that the luxury watch industry has taken to studying and now producing these products even before the mainstream consumer has. While it doesn't represent the sentiments of all luxury watch makers.