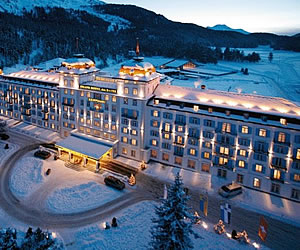 St. Moritz is among the world's most liked luxury vacation spots. St. Moritz, due to its favorable location in Switzerland, enjoys over 300 days of sunshine a year. The skiers, snowboarders and hiking lovers from all over the world dream to visit this resort town in the Engadine valley in Switzerland.
What Attracts The Tourists?
Tourists usually are dazzled by the natural beauty of St. Moritz, Switzerland and its quality infrastructure. St. Moritz has the privilege of staging a wide variety of world class events, making it one of the unmatched luxury vacation spots over the globe.
The skiing resort of worldwide fame from the last one and a half century – St. Moritz is among the world's ski capitals. St. Moritz, Switzerland is the host to the world's oldest ski school. St. Moritz has twice been the host city for the Winter Olympics. It also hosted the Alpine Skiing World Championships.
What To Do And See In St. Moritz, Switzerland?
When choosing among the luxury vacation spots, everyone looks for some thrill. St. Moritz is a paradise on earth for the thrill lovers and adventurous souls. Skiing, hiking, bicycling, rail journey on the glacier, horse riding, white-water rafting, sailing, windsurfing and mountain climbing, what else can a tourist think of while planning vacations.
The name 'St. Moritz' stands for a 'chic, vibrant and elegant' town. A luxury vacation spot and second home to the rich and famous, enjoying a special atmosphere and a dry, tingling champagne climate during their vacations!
The main stream of tourists visit St. Moritz during winter as the skiing and hiking experience is just superb during this period. the world's only Cresta Run, the world's first bobsled run, the tobogganing run on Muottas Muragl as well as horse and greyhound races, polo, cricket and curling tournaments on the frozen lake, ski jumping, the famous Engadin cross-country ski marathon with over 12'000 participants, the St. Moritz Gourmet Festival and the St. Moritz Music Festival 'Snow & Symphony'. Such are the winter attractions for tourists who plan to visit St. Moritz.
Many visitors prefer to come to St. Moritz in summer as it offers many attractive activities during summer as well. This beautiful resort looks resplendent during summer. The picturesque surroundings near the edge of a pristine mountain Lake St. Moritz, the beautiful glacier journey and the scenic splendours are sure to stupefy your senses during summer at St. Moritz.
The unspoiled natural environment, serenity, cultural richness, sports possibilities along with the best possible facilities are the main summer attractions when talk of St. Moritz, Switzerland. Fascinating walks – exhilarating hikes, mountain biking tours, golf, horse riding, windsurfing and sailing are some of the many activities which can be experienced during summer at St. Moritz.
We hope you enjoy you vacation at St. Moritz this summer!