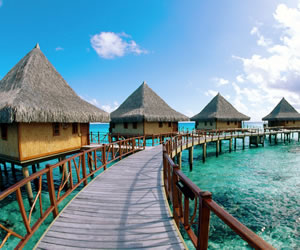 French Polynesia is one of the best places to go if you want tropical beaches and a luxury vacations. It has to offer many beautiful islands like Tahiti and Bora Bora. This is going to be an expensive luxury style vacation but it is going to be worth spending every penny because you will never forget this vacation in your entire life.
This part of the world is best to visit in the month of august and you should plan your trip ahead. French Polynesia has to offer white sand beaches, tropical weather and fruits, Tahitian pearls and turquoise crystalline water. Sounds like a perfect vacation along with the kind of activities you can do there.
There are various reasons to visit these islands in French Polynesia. One of the major reasons is the Tahitian people who are so warm and welcoming exactly like the weather over there. They mostly speak French but they are so accommodating that they also speak in English and they are always ready to guide the tourists and make sure they have a good time. French Polynesia is also a place which can make your dream of having a private island come true.
There are many deserted and private islands which are perfect for honeymooners and lovebirds that are looking for a place where they can be alone and those islands will also provide them with coral gardens where they can snorkel and a world class resort to stay in.
Another reason for visiting French Polynesia is the romantic scenery, there can nothing be more romantic in this world than these places. They are like the picture perfect places where you want to go with your partner and make endless love. If you are looking for a luxury vacation then this is the place for you where you can enjoy gourmet breakfast of tropical fruits and freshly squeezed juices, French pastries and what not. Pearls are also a reason to go to these islands because the pearls that surround this place make the perfect cultured pearls.