Oyster knows what travelers look for in their hotels. When we review properties around the world, we evaluate how every feature stacks up against the competition, from the rooms to the pools to the restaurants. So if you're planning a posh trip and need a place to start, you've come to the right place. Take a look at our top picks for luxury in London, and get inspired!
[contentblock id=1 img=adsense.png]
The Milestone Hotel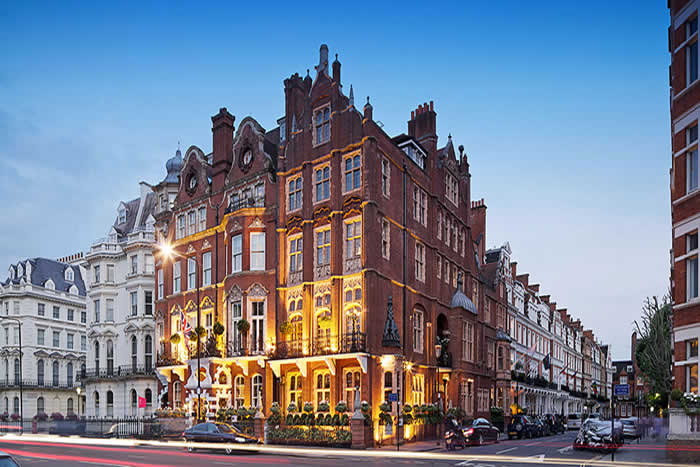 The Milestone is perhaps the most famous boutique hotel in London, and certainly lives up to its expectations, with exquisitely designed rooms and exceptional service. The service is where the hotel really shines, as each member of staff is superbly trained, which helps ensure guests get the first-rate luxury experience for which The Milestone is known. With a health club complete with spa, fitness center, resistance pool, and sauna, and a convenient location for London's most exclusive shopping, it's difficult to find something wrong with this hotel.
The Lanesborough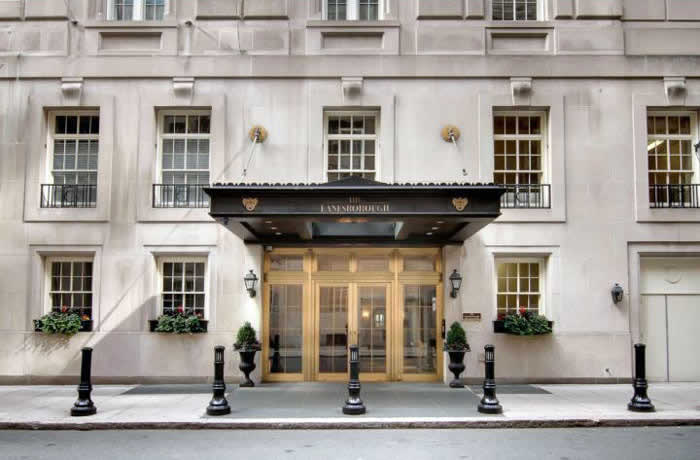 The Lanesborough, a St. Regis Hotel, is a luxurious property overlooking Hyde Park in Knightsbridge. The 93 rooms have palatial bathrooms, big flat-screen TVs, and free butler service. Stately decor is inspired by the early 19th century, and free Wi-Fi and laptops are available in every room. Some rooms have great views of Hyde Park. Hotel highlights include fine dining at the Michelin-rated restaurant Apsleys, a small spa studio and fitness studio, a ground floor piano bar, and traditional afternoon tea. An excellent staff, luxurious touches, and exclusive location on the busiest corner of Hyde Park make the Lanesborough a great luxury pick.
Baglioni Hotel London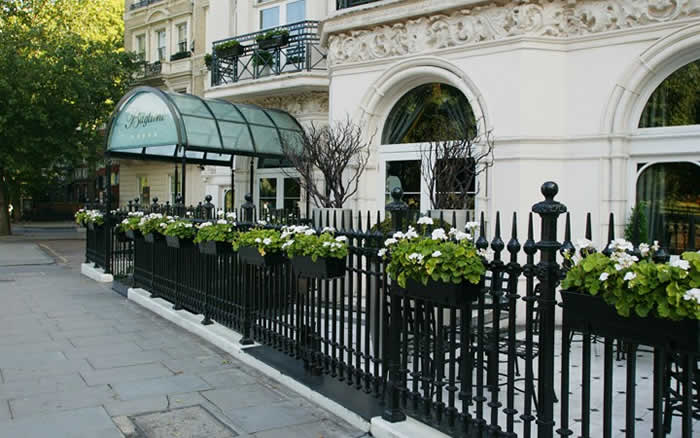 This boutique hotel offers an excellent location on the southwest tip of Hyde Park overlooking Kensington Gardens. The individually decorated, luxe 67 rooms all showcase classic Italian touches as well as dramatic contemporary design. Perks include free Wi-Fi and Illy espresso machines, as well as extra hotel features like the spa and fitness center, and the Mediterranean-inspired restaurant, Brunello, is a destination in itself. For an extra touch of exclusivity, this hotel also offers free chauffeur service in a Jaguar within a 1.5-mile radius. Without a pool or a Michelin-starred restaurant, it's just a step behind the Langham and the Lanesborough but is nonetheless one of the most luxurious hotels in the city.
[contentblock id=2 img=adsense.png]
The Halkin by COMO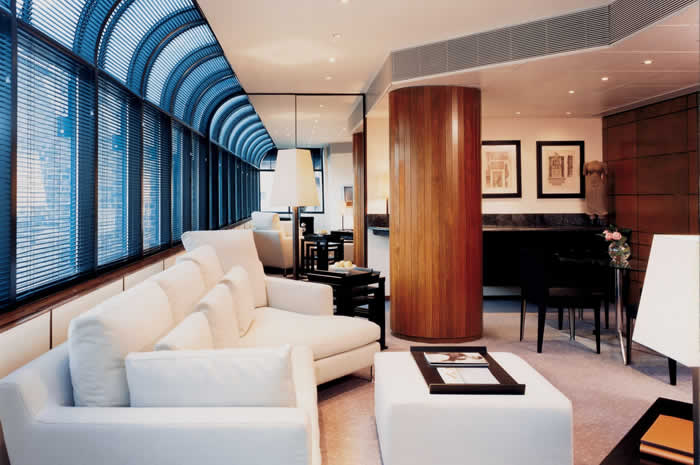 A 41-room boutique hotel with generous amounts of space, the Halkin exudes luxury — from its distinctive Italian-cum-Asian interior design to its marble bathrooms with deep soaking tubs. Sumptuous and spacious guest rooms literally offer convenience at the touch of a button, as all have wall consoles for calling the butler and other services. Even the location is upscale, as the property stands in the tony Belgravia district and is just a two-minute walk from Buckingham Palace. Guests also have access to the spa at famed sister hotel The Metropolitan, since the Halkin does lack amenities such as a spa and pool.
Egerton House Hotel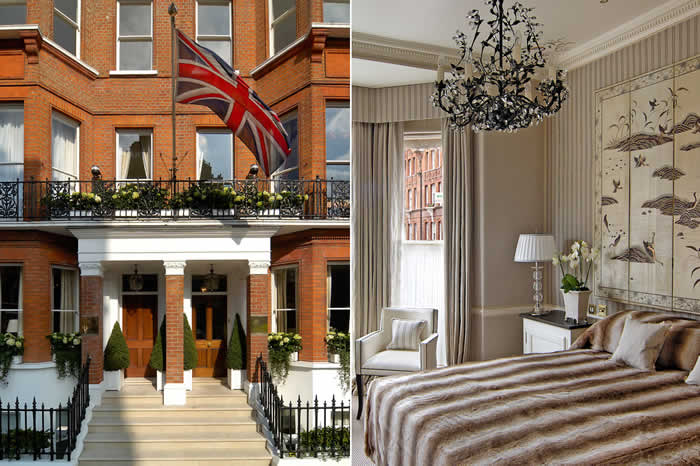 This exquisite luxury boutique hotel with just 28 rooms offers the elegance of a different time in England's history. Located in the upscale Knightsbridge neighborhood, Egerton House Hotel is a short walk from the famous Harrods Department store and renowned London museums. Rooms in this historic townhouse are individually decorated in rich fabrics, and have opulent bathrooms, free Wi-Fi, champagne on arrival, and candles at turndown. The common spaces are just as special, with a notable art collection — including works by Picasso and Matisse — and a gorgeous drawing room for afternoon tea.
Dukes Hotel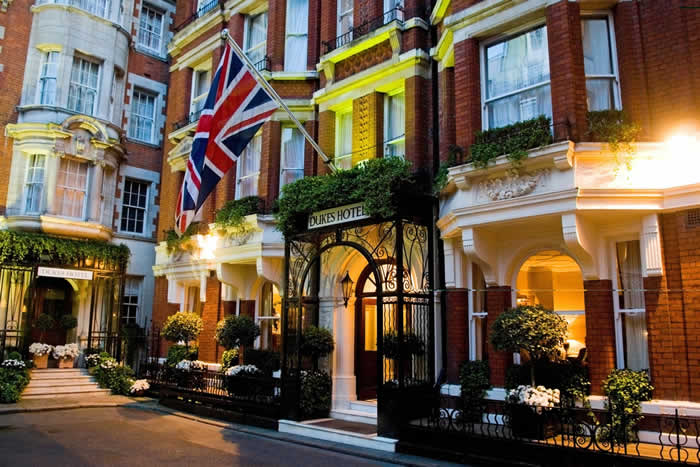 Dukes Hotel is a pricey, prestigious 90-room boutique delivering an updated take on classic English luxury. It's quietly opulent and features plenty of special boutique amenities, such as a cognac and cigar garden, and a Drawing Room where traditional afternoon tea is served. The most notable feature, however, is Dukes Bar, frequented by James Bond creator Ian Fleming, and the birthplace of the famous "Shaken, not stirred" line. (The bar is, naturally, famous for its martinis — but note that there's a strict dress code.) Rooms have upscale decor that varies between room types; lower level rooms have fresh ivory and white decor, while suites blend classic and contemporary styles.
[contentblock id=3 img=gcb.png]
Sanderson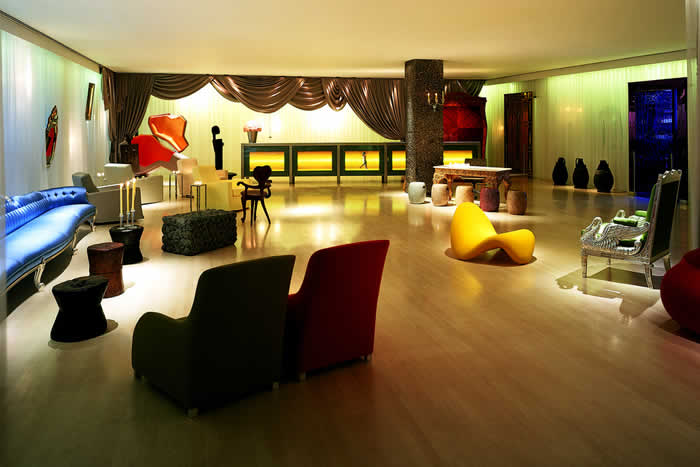 The Sanderson is an edgy hotel with original and extravagant design by Philippe Starck. Innovative rooms feature a mostly all-white color palette designed without interior walls. There is an emphasis here on texture, seen in the layers of sheer curtains that divide different areas of the room. Design touches include carpets with Voltaire's handwriting and luxurious bathrooms, some with separate walk-in showers and freestanding soaking tubs. There are many hotel highlights beyond the rooms, including an all-white tranquil spa with 14 treatment rooms and meditation beds. A contemporary fitness room has individual TVs at cardio machines, and a billiard room features 1950s stained glass. The restaurant, Suka, serves Malaysian food, and a Mad Hatter's themed afternoon tea is served in the striking courtyard.