The Lucid Group is setting new standards with its advanced luxury electric cars and has launched Production Preview Week, a series of events where Lucid's Advanced Manufacturing Facility (AMP-1) and Lucid Powertrain Manufacturing (LPM-1) open their doors. From factories in Casa Grande, Arizona to members of the media and investing community, policymakers, and customers of the Lucid Air Dream Edition.
Lucid Air luxury, customer-quality electric sedans rolled off the line today during the AMP-1 event that included a factory start-up ceremony with Arizona Governor Doug Ducey.
Governor Ducey joined other policymakers and invited guests to highlight Lucid's local job creation and economic development, expansion of its high-tech manufacturing footprint, and future expansion plans in the state. In addition, customers, analysts, investors, and media representatives were given the opportunity to be one of the first to test-drive the Lucid Air.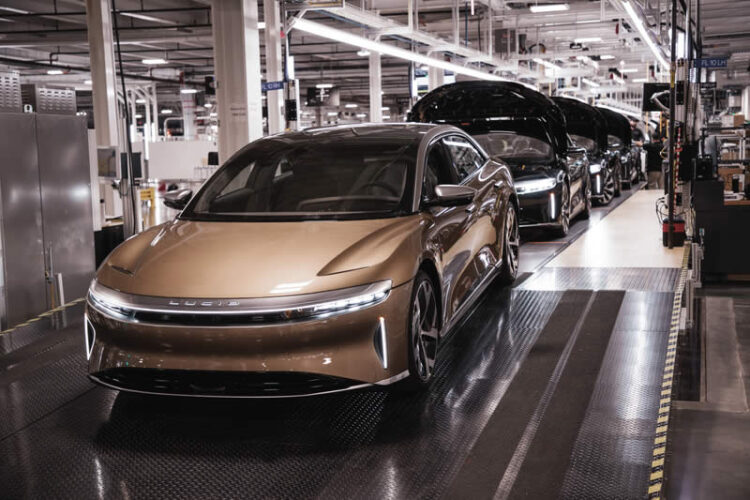 Shipments to Lucid Air customers will begin at the end of October
Lucid expects booking owners of Lucid Air Dream Edition models to receive their vehicles by the end of October, followed by an increase in deliveries to customers. Deliveries of the Grand Touring, Touring, and Air Pure models are expected to follow.
Lucid has received more than 13,000 bookings for Lucid Air to date, bringing the total planned production of the Dream Edition to 520 vehicles.
Lucid's proprietary EV technology will make it possible to travel more miles with less battery power. Our Lucid Air Grand Touring, for example, has an official EPA rating of 516 miles with a 112 kWh battery, giving it an industry-leading efficiency of 4.6 miles per kWh. "Our technology will enable ever lighter, more efficient, and cheaper electric vehicles and is a huge step forward in our journey to expand the accessibility of more sustainable modes of transport today," said Peter Rawlinson, CEO, and CTO of the Lucid Group. "I am delighted that production vehicles with this level of efficiency are now leaving our plant."