Tiger Woods took a week off last week, skipping the Tournament of Champions event he'd earned a right to play in with his Masters victory back in April. And the decision not to play at Kapalua cost him his lofty place in the Official World Golf Ranking.
Woods dropped down one spot to No. 7 in the world in the latest rankings published on Monday after spending a lengthy time at No. 6, dating back to his victory at the Zozo Championship in October, which improved his position by two spots. While Woods has spent a record of 683 weeks at No. 1 in his career, he'd plummeted to 668th before his latest comeback began in late 2017. But by the end of 2018 he'd already risen to 14th.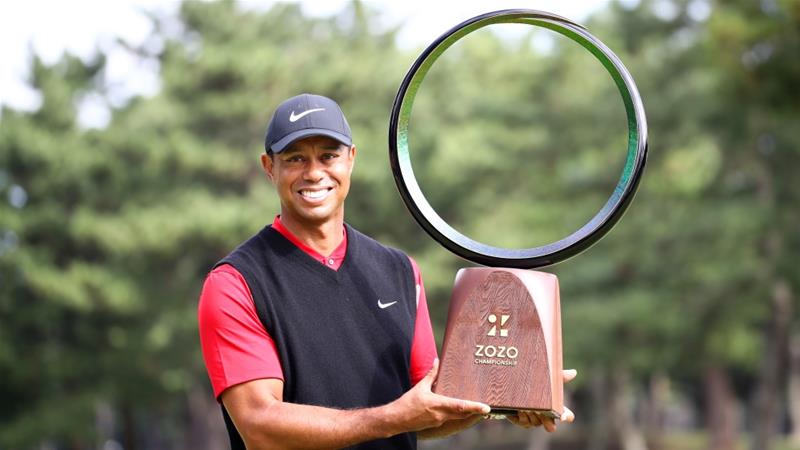 Tiger finally re-entered the top 10 with his win at Augusta last year and has remained there ever since, peaking at No. 5. Despite the recent slip, he has little chance of falling out of the top 10 any time soon, as he still finds himself nearly a full point ahead of No. 10 Tommy Fleetwood.
Taking Tiger's spot on No. 6 is Patrick Cantlay, who shot a five-under 68 on Sunday to finish 4th at the Tournament of Champions. It matches the best ranking Cantlay has reached so far in his young career, and he seems destined to be fighting for a top-five spot for years to come.
Cantlay's Presidents Cup playing partner Xander Schauffele was one of the few other players making moves at the top of the rankings, improving to 8th after his runner-up finishes at Kapalua.
The man who tied for second with Xander and once again dominated headlines this weekend, Patrick Reed, also improved his ranking. Reed moved up one spot thanks to his solid finish and is now threatening the top 10 at No. 11 in the World.
Tiger's World Rankings slide, however minor, could continue in the coming weeks. He's not expected to return to the PGA Tour until Jan. 23 at the Farmers Insurance Open, although he has yet to officially announce his schedule for 2020. That gives other players an opportunity to rack up points while Tiger stays put.
Below you can see the current top 20 in the World Ranking. Head over to OWGR.com to see the complete ranking.
Brooks Koepka: 10.4869 (average points)
Rory McIlroy: 9.2014
Jon Rahm: 8.0988
Justin Thomas: 7.9686
Dustin Johnson: 6.9421
Patrick Cantlay: 6.5006
Tiger Woods: 6.4708
Xander Schauffele: 6.0516
Justin Rose: 5.9891
Tommy Fleetwood: 5.5082
Patrick Reed: 5.2257
Webb Simpson:4.8790
Adam Scott:4.7858
Gary Woodland: 4.6563
Bryson DeChambeau: 4.5937
Tony Finau: 4.5078
Paul Casey: 4.4888
Francesco Molinari: 4.4726
Shane Lowry: 4.3055
Louis Oosthuizen: 4.1354