UEFA revealed their Team of the Year for 2015 on Friday morning 
The 2015 Team of the Year was decided by voters on the UEFA website 
Barcelona forward Lionel Messi received the most votes with 448,445
[contentblock id=1 img=adsense.png]
Barca's Dani Alves, Gerard Pique, Andres Iniesta and Neymar also feature
Manuel Neuer, David Alaba and Paul Pogba are the non La Liga stars in the XI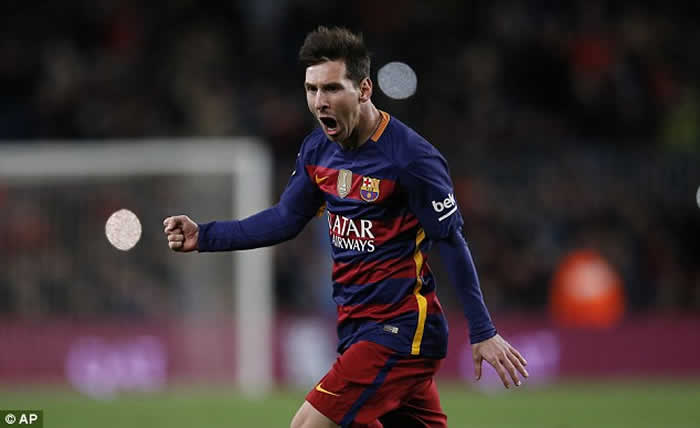 Barcelona stars dominate the UEFA Team of the Year as no Premier League players feature in the XI. UEFA revealed their starting line-up on Friday morning as voted for by users of their official website. Two of Barca's devastating forward triumvirate – Lionel Messi and Neymar form UEFA's front three of a 4-3-3 formation alongside Real Madrid talisman Cristiano Ronaldo. Luis Enrique's side beat Real's record of goals in a calendar year, ending up with 180 to Los Blancos 178, With Messi and Neymar plundering in the majority of those strikes as well as team-mate Luis Suarez. 
Aside from their personal goalscoring hauls, Messi and Neymar enjoyed a stellar calendar year with the Catalan club – helping them lift five trophies as Enrique's men won La Liga, Copa del Rey, Champions League, European Super Cup and the Club World Cup. Despite the success of 'MSN' there is a place in the line-up for Real forward Ronaldo at the expense of Suarez.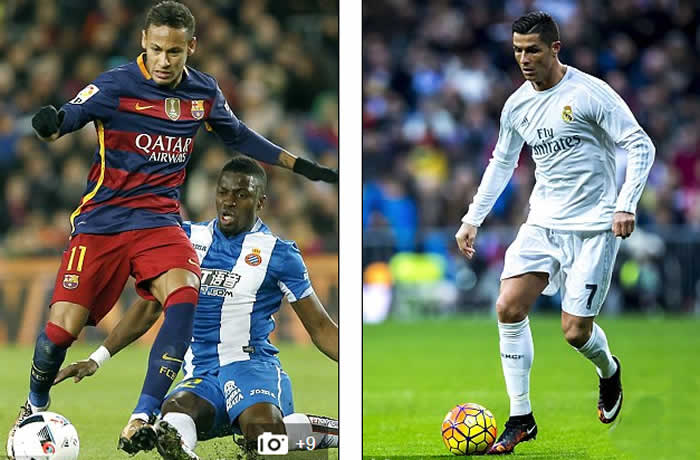 Three-time, and current, Ballon d'Or winner Ronaldo has been overshadowed by Messi and Neymar's trophy success but still managed to score a staggering 54 goals in 52 appearances for Real in all competitions last year. Out of that front three Messi featured in 70 per cent of voters' teams followed by Neymar (44 per cent) and Ronaldo (41 per cent).
[contentblock id=2 img=adsense.png]
The former also recieved the most votes to be included in the overall XI having been selected 448,445 times in comparison to Neymar's 282,327 and Ronaldo's 260,811. Messi and Neymar are one of five Barcelona players to be included in the Team of the Year in an XI that is dominated by La Liga stars. The pair are joined by defenders Dani Alves and Gerard Pique as well as midfield playmaker Andres Iniesta. Iniesta obtained 401,574 votes while right back Alves and centre half Pique collected 291,611 and 254,279 each respectively.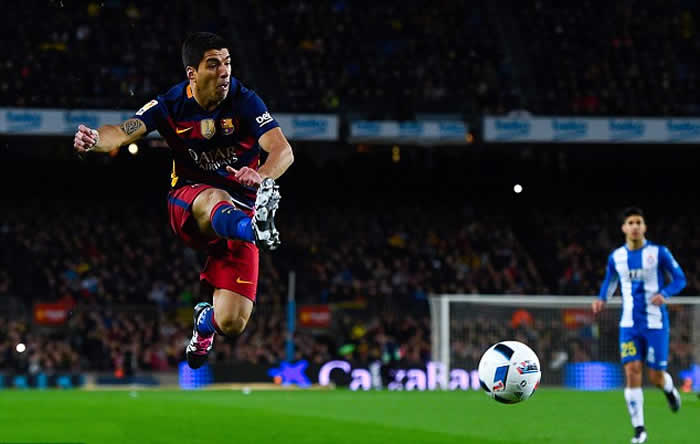 As well as the Barca quintuple and Ronaldo there are a further two players from the latter's team included. Joining Pique at centre back is Real captain Sergio Ramos while James Rodriguez lines up alongside Iniesta in a midfield three. With 59 per cent of UEFA's users votes Bayern Munich's towering goalkeeper Manuel Neuer fills that spot while his team-mate David Alaba completes the defensive back four. Left back Alaba was selected in 68 per cent of the teams selected and also obtained the second-most votes of the XI, behind Messi, with 433,244. 
[contentblock id=3 img=gcb.png]
Juventus midfielder Paul Pogba completes the line-up after playing a key role in the Italian giants' Serie A and Coppa Italia successes last season as they also reached the Champions League final before succumbing to Barcelona. So overall, UEFA's Team of the Year consists of Buffon in goal with a back four of Alves, Ramos, Pique and Alaba. In front of them are midfield trio Iniesta, Pogba and Rodriguez with Messi, Ronaldo and Neymar spearheading the attack.