GREENSBORO, N.C. – For a while it looked like Georgia Tech was going to actually have an easy first round win against the Boston College Eagles in the first round of the 2014 ACC Tournament.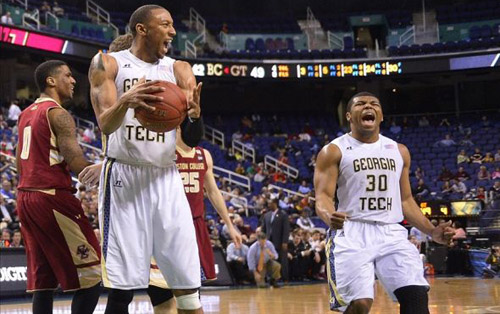 But the Boston College Eagles weren't going quietly into that good night, and pushed the Jackets to overtime, before falling 73-70. The game wasn't a smooth ride for either team though. It had everything from clock issues on the court, questionable calls and no-calls (ok…beyond questionable, how about ridiculous), to a brief power outage, caused by a tree falling onto a power line in the high winds blowing through the southeast today.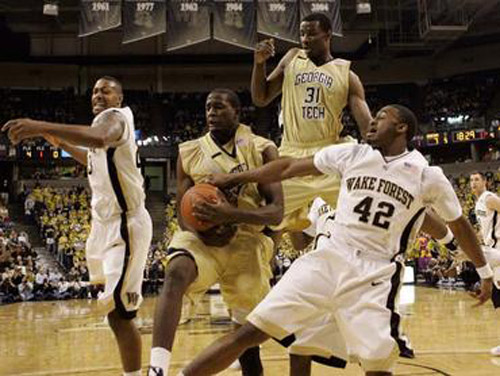 The Yellow Jackets were dominating the boards, dominating the paint, and just generally outworking the Boston College Eagles. But despite all the good work down low, Tech still found themselves with only a 10-point lead with about 10 minutes to go in the game.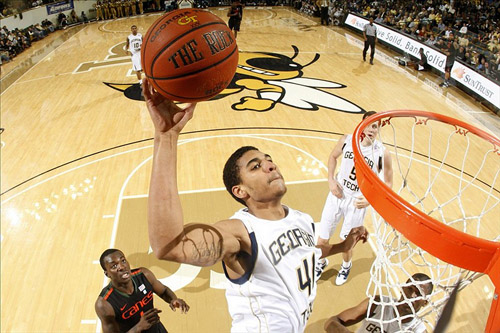 It wasn't until B.C. coach Steve Donahue decided to go small–so as to counteract the bigger, stronger Jackets–that his team started to crawl back into it, much to the credit of junior guard Patrick Heckmann, who put the Eagles on his shoulders and nearly led them to a win. Tech will now move on to play Clemson on Thursday at 9pm, in what is sure to be a low-scoring defensive battle.  -Yellowjackedup