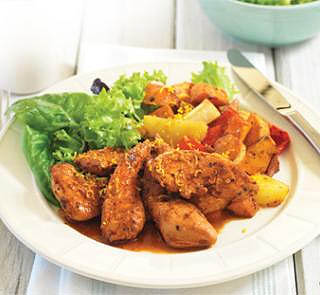 Ingredients:
400g chicken tenderloins
3 tablespoons Portuguese chicken seasoning
6 cups root vegies such as pumpkin, parsnip, potato, sweet potato, chopped into small pieces
2 oranges, zested and juiced
2 tablespoons honey
4 cups salad greens
2 tablespoons slivered almonds
Method:
Step 1 Preheat oven to 180°C. Mix tenderloins with 2 tablespoons of the Portuguese seasoning, then set aside.
Step 2 Place vegies into a plastic bag, spray with a little oil then add remaining Portuguese seasoning. Toss, then tip into a roasting dish lined with baking paper. Roast for 20 minutes, until golden.
Step 3 Spray a frying pan with oil. Cook chicken over high heat for 5–6 minutes, or until cooked. Add zest, juice and honey and cook for 1–2 more minutes.
Step 4 Divide salad between 4 plates. Top with roasted vegies and chicken. Sprinkle with almonds then serve.