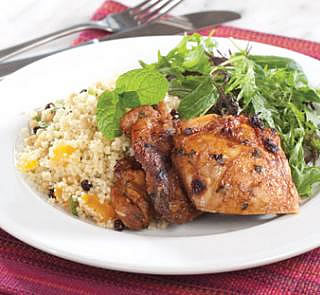 Grilled chicken in bbq hotplate is a perfect delectable meal for the winter season. chicken with deep marination of garlic, lemon juice, honey, olive oil, cumin, paprika and cinnamon is further sprinkled with salt and pepper. fresh salad with fruity couscous serve on side line.
Ingredients:
600g boneless, skinless chicken thighs
2 cloves garlic, peeled, chopped
1 lemon, 2 tablespoons juice
1 tablespoon honey
1 tablespoon olive oil
1 teaspoon cumin
1 teaspoon paprika
1/4 teaspoon cinnamon
1-2 tablespoons fresh mint, chopped
Fruity couscous
1 cup couscous
6 chopped dried apricots
1 cup boiling water
1/2 teaspoon powdered instant chicken stock
2 tablespoons pine nuts
2 tablespoons dried currants
1 tablespoon olive oil
1 lemon, 2 tablespoons juice
2 tablespoons chopped fresh coriander or mint (or a mixture)
Method:
Step 1 Place chicken in a sturdy plastic bag then add garlic, lemon juice, honey, olive oil, cumin, paprika and cinnamon. Massage bag to combine ingredients and coat chicken with marinade. Remove air from bag and leave chicken to marinate for at least 15 minutes (refrigerate and marinate for up to 12 hours if desired).
Step 2 Remove chicken from marinade and season with salt and black pepper. Cook on a preheated, lightly-oiled barbecue hotplate or grill or place 5-10cm below a preheated grill for 5-6 minutes each side, or until cooked through (test by cutting through the thickest piece to check there is no pink in the middle). When cooked, transfer to a warm serving dish.
Step 3 Serve on fruity couscous with a simple salad on the side.