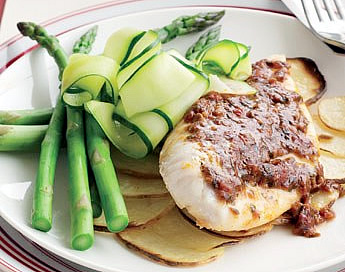 Sometimes it's the simple, fresh tastes which make all the difference to a delightful and healthy evening meal.
Ingredients
120g fillet thick white boneless fish, such as blue eye cod
2 tablespoons sun-dried tomato pesto
150g potatoes (1 medium)
cooking oil spray
150g packet frozen Steam Fresh vegetables
Method:
Step 1 Preheat oven to 200ºC. Place a sheet of foil on a baking tray and cover with a sheet of baking paper. Put fish on baking paper and spoon over pesto. Wrap and bake for 10 minutes.
Step 2 Meanwhile; very thinly slice potato and place, overlapping slightly, on a microwave-safe plate. Cover with plastic wrap and microwave on high for 2 minutes. Spray with oil and cook under a hot grill for 4 minutes until crisp.
Step 3 Prepare Steam Fresh vegetables following packet directions. Serve immediately with potatoes and fish. – Healthyfood