Looking to shape up for summer? Then a fun and interesting fitness option is going to help you on your way there. Here The Colonel at Xercise4Less shares his advice on the fitness trends for 2014. Which one will you be trying?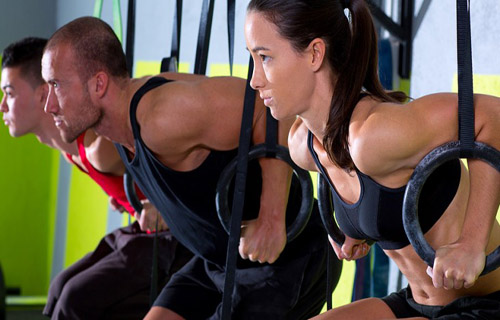 HIIT
There IS a way to lose more fat & burn more calories whilst spending less time in the gym!! High-intensity interval training (HIIT) is a form of exercise in which you alternate between very intense periods and slower recovery periods for a shorter, smarter workout. This type of activity is by no means exclusive to the treadmill and the cross trainer, in summer 2014 we can expect to see lots of bodyweight exercises such as bunny hops, press ups and power jacks follow the HIIT principle. Get ready to see some major changes in your body and your fitness levels.
Military fitness- Get down and give me 10!
If your gym routine is getting tired & you're training but not seeing results… There is a way to get fit & have fun AT THE SAME TIME!! Military fitness boot camp style training is inspired by fitness regimes used by the British Military, fire-fighters and Royal Navy. You can get fit, tone up, lose weight and meet new people in a friendly, competitive environment. Military fitness caters for all fitness levels & combines circuit training, assault courses, team games & even the occasional mud fight or net scramble!
Bowka- Zumba- reincarnated!
Bokwa is (according to many) the new Zumba – and if you love to dance, I absolutely advise giving this chic class a whirl! Bokwa involves a set of dance steps that spell out letters and numbers on the floor. Once you learn the basic steps, you're free to create your own personal routines moving to the music as you see fit and burning boundless calories as you go. It's slightly more structured than Zumba, but still offers freedom and flexibility and can work for a variety of ages and fitness levels. Like Zumba, once you're in the Bowka zone you'll be enjoying yourself so much you'll forget you're exercising at all!!
Body Weight – all you need is… You!
Perfect if you would like to tone up without joining a gym or even using any equipment! As I said with HIIT, bodyweight training is making a comeback! It uses your own body weight to tone and sculpt your body. It's the world's oldest training method and involves burpees, lunges, squats and push-ups a plenty. The ultimate body builder himself Arnold Schwarzenegger even endorsed this fitness method back in the day…. Fact!

Kettle bells & strength training – What is a Kettlebell?
I'm glad that you asked! Imagine a black bowling ball with a suitcase handle on it and you start to get a good idea of what a Kettlebell looks like. A Kettlebell is a big hunk of iron that comes in several sizes from 2kg to 64kg & heavier! You can do standard weight training exercises with Kettlebells but also more bespoke exercises such as the Kettlebell Squat- you only have to go on Youtube and type in 'Kettlebell Bring Sally Up' to see the advantages of this type of training.
Men:
If you are a man that wants to increase size and strength Kettlebells will help you to achieve your goals!
Women:
– If you want to lose weight and tighten up your bottom, legs, abs, and arms Kettlebells are the answer! Why not give them a go?
Personal training – not just for celebs
Personal training sessions used to be seen as something only celebrities and the wealthiest could afford but they are more accessible now than ever before. The one-to-one coaching and attention you receive is highly beneficial and can produce amazing results. Many personal trainers also offer small group sessions or can travel to your home.
Personal training is arguably the best way to get motivated and stats prove that those who train with a PT train harder and reach their fitness goals faster! Most PT's also offer full support, training and nutritional advice by text message and e-mail! So the service doesn't stop as soon as the session ends! Why not book a consultation today?
HOT Yoga – sweat baby sweat!
Yoga is set to make a massive return in 2014. Hot Yoga as well as more traditional yoga classes are billed to become more popular than ever. Suitable for all ages, yoga is excellent for toning and flexibility as well as being calming and relaxing. The ancient practice of yoga is still as popular and effective today as it's ever been, and by new innovations mean we're constantly being challenged to stretch our bodies in new and beneficial ways.
In recent years Bikram Yoga (also known as Hot Yoga) has gained a huge fan base who claim that performing Yoga poses in a room heated to extreme levels (upwards of 40 degrees Celsius) feels far more satisfying and delivers better results than a standard Yoga class. While cynics believe this is all down to perception, devotees will argue that the heat allows the body to be more flexible and that all that sweating helps eliminate toxins. This may be down to personal preference, but surely its worth trying anything once?! After all, in the cold days of winter, who doesn't want a warm glow?
Pilates:
Pilates is a type of exercise that focuses on using both the mind and body to achieve optimum performance.  The deep stabilizing muscles of the body are conditioned and strengthened through sequences of movements that use gravity, body weight and specially designed equipment as forms of resistance. Pilates was originally designed by Joseph Pilates for Elite Dancers but has been adopted over the years and is now a modern-day must have as part of any fitness regime.
Pilates provides:
Total body workout
Core stability and postural alignment
Muscle tone and strength
Improved body awareness
Injury rehab
Reduced stress
Still not convinced? It can also give you a tummy that's flat as a pancake!
Super Foods:
Popular with celebrities like Victoria Beckham and Beyonce, superfoods like kale will become very popular in 2014. Containing vitamin K, vitamin C, vitamin A as well as lots of yummy antioxidants. Kale also contains plenty of fibre, which means it has plenty of value in reducing the risk of heart disease and lowering cholesterol. Eat kale raw as part of a salad or steam it to eat with potatoes and chicken.
Put away your cereal bars and grapes, high protein snacks are the way to go in 2014. Despite the high unreliable portrayals of protein in the media, I say pack some yogurt and almonds or turkey and cheese as a snack to have at your desk. Not only will it kill your hunger pangs, but it will also help keep your cravings at bay for longer.
Functional Training:
You may have noticed from earlier references in Bokwa, Kettlebells and Hot Yoga that both training methods and equipment are becoming even more wild and whacky. In the summer of 2014 we expect to see even more multi-functional pieces of gym apparatus. Training frames with Monkey Bar like features will come attached with TRX suspension training straps and battle-ropes. These specialist functional areas will offer gym members more variety, enjoyment and efficiency! Looks like pull ups & muscle ups are about to get serious.-femalefirst