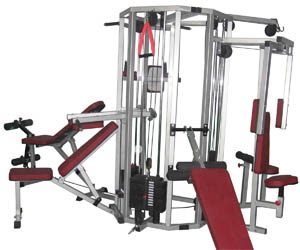 Fitness has always been a top priority for both men and women. However, one cannot deny the fact that getting to the gym can be tough sometimes in daily routine. Being stuck at home doesn't means you have to compromise on your fitness. If you are really conscious about your health and fitness and want to keep them up even amid your busy schedules, building a home gym is a perfect idea for you. The idea of building your own home gym will cut costs on your fitness routine, as you can say goodbye to all those expensive monthly membership fees. If you want to open up your own home gym, following are some ideas of using an effective and inexpensive home gym:
Before building your home gym, you need to choose a home gym space in your house. Try to pick up a single room where you can put all your fitness equipment. Before deciding on the room for your home gym, consider the following factors:
Room shouldn't have carpet, as it is easily stained and can quickly become unhygienic and stinky.
Ceiling shouldn't be low, so that you can perform jumping or lifting objects easily.
The room for home gym should be well-ventilated, so that you may feel comfortable while doing hard cardio exercise.
Home Gym Equipments
After choosing your home gym space, the next step is to fill it with essential fitness equipments.
Following are some of the recommendations for filling your home gym with inexpensive and less bulky ways:
For beginning workout in your home gym, you will be in need of a set of light dumbbells. If you want to move on advance fitness exercises, you may get a range of dumbbell sizes.
You can add a stability ball to your home gym to perform crunches, squats and sit-ups.
A standard yoga mat is a perfect addition for home gym.
For your cardio fitness workout, you can choose a simple weighted jump rope to burn calories. To make your home gym well-equipped, you can also go for an elliptical trainer, a treadmill or a bicycle. You can purchase second-hand equipments for your home gym at much more affordable prices than purchasing new.