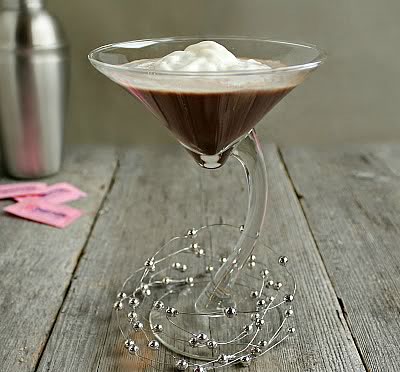 Try this skinny spin on the old Chocolate Martini classic. We've given it a nip and tuck and cut back on a few hard calorie driven ingredients so you can still enjoy that chocolate taste without the worry of piling on the pounds.
Ingredients Per Serving:
1 1/2 oz. Vanilla vodka
1 Teaspoon unsweetened cocoa powder
1 Packet Sweet'N Low
3 oz. Low fat Milk
1 Tablespoon fat free whipped topping
Method:
Combine the cocoa powder,  milk and Sweet'N Low in a cup and microwave for 10 seconds.  Pour into a cocktail shaker along with the vanilla vodka and fill with ice.  Shake well and pour into a chilled cocktail glass.  Garnish with a tablespoon of the fat free whipped topping, if desired.
As part of the Foodbuzz Tastemaker program, I was financially compensated and provided with samples of Sweet'N Low and coupons.  The recipe, photographs and opinions are my own.
Via: Hungrycouplenyc.blogspot