Contrary to popular belief, getting custom clothing manufactured for you won't cost you more than $3,000 or more. While there are various unique experiences with prices starting as low as $400, you may spend this much and then some on luxurious custom-made clothing.
Most people who regularly use tailored clothing may now afford to have their apparel custom created. There are also a lot of options that are readily available for various experiences in your city or even entirely online.
Let's first examine the various levels of custom clothes to decide whether or not investing in custom clothing is worthwhile.
How Much Does A Made-To-Measure Suit Cost?
Made-To-Measure is the entry-level in the custom clothes space. Big-box retailers and chain specialized businesses like Indochino. Andre Emilio carries Made-To-Measure (MTM) clothes. This is the most common type of custom-made program that powers most online clothing experiences.
Due to the ease of deployment by the shop and staff training, the majority of the customized solutions you will encounter are MTM-based. Usually, they will assign you to work with a custom specialist who has been educated to take some fundamental custom measurements and guide you through your options.
If the experience is online, they will walk you through a lesson on how to take your measures virtually, and you will have someone take the appropriate measurements.
After you leave the store, the stylist will enter your measurements into software to create a common block pattern that is the closest to your size. The stylist will then modify that pattern to account for some fundamental details. MTM has extremely limited capabilities, but it will let you choose from a few simple styling options for you.
Made-To-Measure Pluses
Made-to-measure clothing has several benefits, including being easily accessible in the majority of important markets. Its starting price is reasonable for most people, and it will address several typical fit problems you could experience with off-the-rack clothing.
Made-To-Measure Minuses
Made-to-measure clothes have the drawback of being a relatively cookie-cutter custom experience. It's difficult to get a perfect bespoke fit.
Made-To-Measure Online Experience Minuses
Since you have to invest a lot of personal time into the process, online custom clothes experiences do not have a good return rate, according to feedback from many customers who have tried these services.
Online personalized experiences have been replaced by traditional brick-and-mortar experiences in major markets due to the high cost of consumer acquisition and low return rate.
Most people prefer face-to-face interaction and professional styling assistance from the industry.
With Made-to-Measure, lead times might vary, but 2-3 weeks is a common estimate. Prices can vary, but they often begin at $400 and increase from there.
How Much Does A Full Custom Suit Cost?
Your pattern is manually cut by a master cutter as part of a full custom clothes experience. In contrast to MTM, everything is completed in person when you meet with a Full Custom specialist.
However, at Andre Emilio, our secret sauce is the fabrication of the distinctive pattern from which your clothes are manufactured. Each Full Custom experience may vary somewhat. Three stages are taken to produce your pattern:
Step 1: Body Pictures
We take a 365-degree pictorial of you. They are known as your tailor mugshots. Your photos are crucial because our team, including our pattern cutter, is examining how you hold yourself when standing comfortably.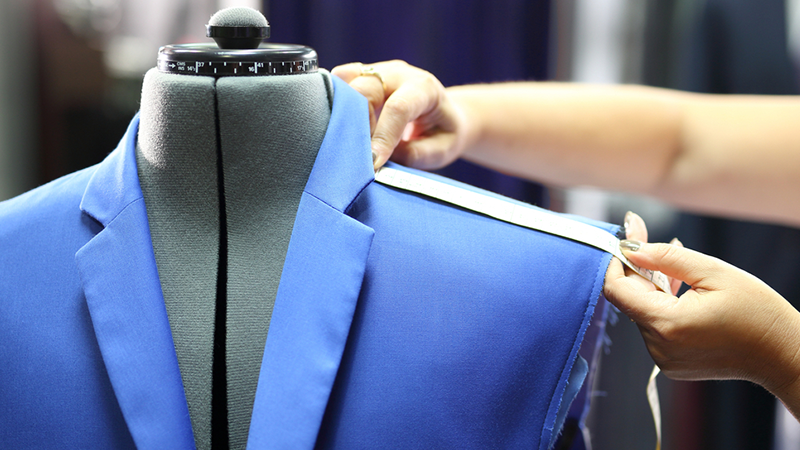 For instance, some of our clients, with their broad, rounded backs and bodybuilder frames, often hold their arms out in front, while others do the opposite. You might stand naturally with your head forward, have a low left or right shoulder, or both. Both forward and backward-facing hip postures are acceptable. All of these factors, as well as many others, will have an impact on how a jacket, pants, or shirt will fit you and can be taken into account while developing your individual design.
Step 2: Body Measurements
With a measuring tape and carefully calibrated devices that assess your shoulder slope and standing posture, we take over 30 body measurements. Your unique design is made using measurements taken from your skin, including your flexed bicep, thigh, and cuff.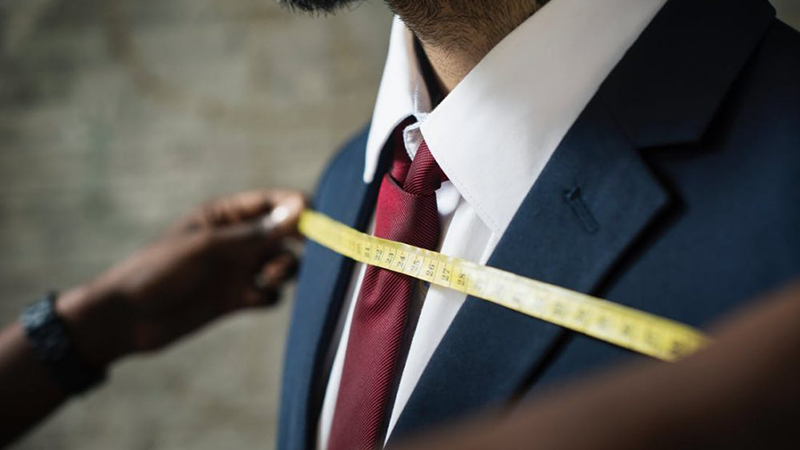 Step 3: Interactive Try-On Per Item Type
You can try on a jacket, pants, shirt, and jeans at Andre Emilio by using one of our specialized try-on. Then, we'll go over each fit factor for each item kind. For instance, when you try on one of our shirts, we'll pin it down the arms to make sure you have the right amount of skin exposed when you're relaxed and when you're flexing.
When you are standing or sitting, when your torso is naturally at its largest expansion, we will pin the sides of the shirt to match the contour of your torso and ensure you have the exact amount over the sides needed.
By combining all three of these steps and using information from each step in the Full Custom process, your unique pattern is created and manually cut.
To Wrap Things Up:
You cannot consider purchasing a custom suit in the same manner that you would consider purchasing a pair of jeans. You get more than simply clothing when you purchase a tailored suit. When you pay more, you receive better quality and a better fit than you can obtain from off-the-rack purchases. The fact that a custom suit can last you for many years is another advantage.
A suit created just for you by an expert tailor can last for many more years than most of the clothing you purchase from a department store. A custom suit designed specifically for you will fit you like nothing else.