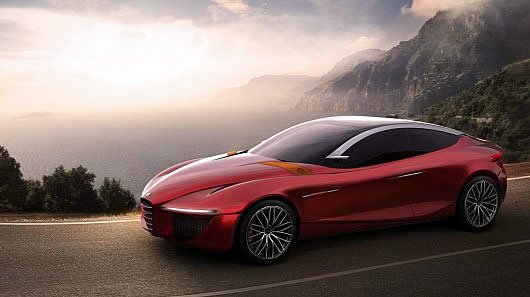 Another debut to look forward to at next month's Geneva Motor Show has surfaced in the form of "Gloria" – a sleek, luxury saloon concept born from a collaboration between between the European Design Institute (IED) of Turin and the Alfa Romeo Style Centre. Gloria is part of IED's educational program aimed at producing the car designers of tomorrow and like the Alfa Romeo 4C, the design has been penned with the American market mind.
The creation of the Gloria concept involved taking 20 students from Italy and abroad in the Master of Arts in Transportation Design program at IED, who were then told to give a "completely independent interpretation of a new Alfa Romeo saloon" with the goal of communicating to the American and Asian markets."
Fiat & Chrysler Design provided feedback and guidance to the students as they produced 20 proposals rendered as quarter scale models. The one that most closely fulfilled the brief was chosen and the students formed into groups to work on it.
The end result is the Gloria concept for the Geneva show – a car that's somewhat restrained for an Alfa Romeo. It has smooth and elegant lines that give the impression of not trying to so much crack the US and Asian markets as to slide in. That said, there are some neat touches, such as the leather straps on the bonnet and what appear to be rear-hinged rear doors.
The fighter jet-like narrow grille is flanked by modest air intakes above which sit headlamps that are little more than slits. Meanwhile, the windscreen and side windows blend into the roof and rear section and, on the whole, it has a certain echo of American muscle cars and some higher performance Asian models.
As to stats, all we know so far is that Gloria is 4700 mm (15.4 ft) long, 1920 mm (6.2 ft) wide and stands 1320 mm (4.3 ft) high with a wheelbase of 2900 mm (9.5 ft). A working version would have a V6 or V8 biturbo engine under the hood.
At Geneva, the IED will present the full-scale model along with a virtual environment for iPads that allow visitors to interact with it by choosing from five models of wheel rims and five body colors.
The 83rd International Motor Show in Geneva runs March 5 to March 17.