Arriving home from dawn patrol in the Black Badge Cullinan, I found workmen in orange vests and hard hats at the curb waiting to enter the property. They followed up the drive and through the gate. As I dismounted slow and easy in much the same way I used to drop off a tall 3-day eventer years ago, I pointed the crew to the back of the property. As they filed by, the foreman leading the column shouted, "That's a nice truck, Jefe."
Cullinan may stand as high as that tall in the withers eventer of my past, and it may possess sheer mass nearly equal to a workaday Chevy Suburban, but it is based on the thoroughbred aluminum architecture and air-spring multi-link suspension of Phantom VIII, the world's finest luxury sedan, and that is all the difference. Capability is extended with all-wheel drive, short overhangs and respectable ground clearance for dusty trails. Cullinan's wheelbase is virtually the same as the Suburban's, but it has only two rows of seats, creating acres of rear legroom. Combined with tremendous headroom and bolt upright doorframes, anyone can elegantly enter or exit, though the step down and out is considerable.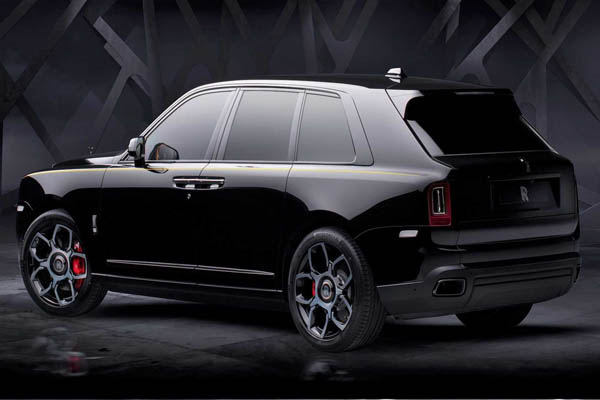 With a second-generation of the Rolls 6.75-liter twin-turbo V12 delivering 600 horsepower and 664 lb. ft. of torque at an incredibly low 1600 rpm—that's not much more than engine idle—Cullinan fulfills the Rolls marketing term "effortless everywhere." Shooting Brake might be a better term for Cullinan than SUV, conjuring images of Highland stag hunts with Purdey rifles in back.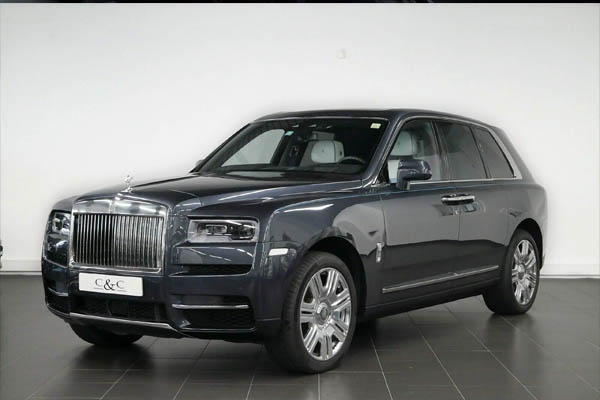 Black Badge was born when CEO Torsten Müller-Ötvös and his design chief saw older Phantom VIIs in Los Angeles dressed down in matte black while retaining their posh Rolls-Royce interiors. Ironic commentary is part of So Cal hot rod humor. Our Man in Goodwood TMO suggested the mathematical symbol of infinity for a sub-brand and the design team developed the concept: interiors stitched in luscious black leather mixed with Pop Art secondary colors like peacock blue, brilliant orange and scarlet red, colors perfect for your girlfriend's skintight miniskirt. Let's go slummin' in a bad-ass Rolls.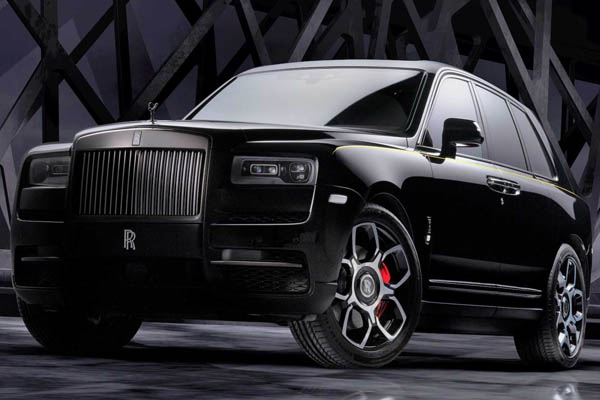 Black Badge means heightened on-road performance, with more torque and horsepower, and transmission scripting to offer impeccable Launch Control. It's a slight stretch to call it Rolls-Royce M Division, but that's the basic idea and Black Badge cars are lively. Amazing as it might sound, BB Cullinan can hit 60 mph in just under 5 seconds—not bad for a three-ton sled. On the highway, with a firmly progressive squash of the throttle Cullinan simply disappears from anything short of supercars and the most outrageous sporting sedans.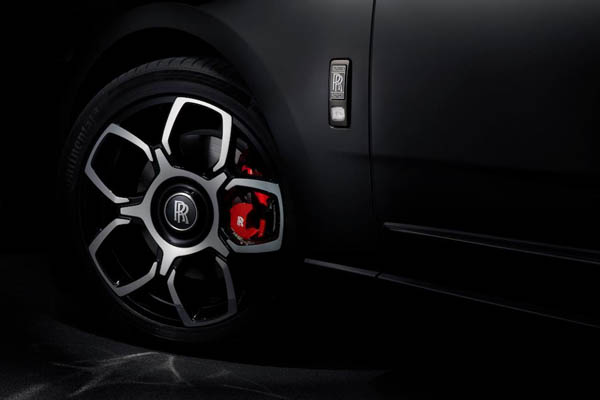 Black Badge Cullinan is not an anechoic chamber like Phantom. Subtle amounts of powertrain sound and tire rumble reach the cabin. Instead of eerie quiet—Phantom is so quiet a butterfly trapped inside might disturb the hushed silence—there's a dash of rortiness. Who doesn't like the idea of a hot-rodded twin-turbo V12? Cullinan also lacks the full waftability and magic carpet ride of Phantom and the purely road-going Rolls-Royce models. Phantoms, Wraiths and Ghosts literally fly above the horribly patched and broken surface of our weird one-and-a-half lane drive, which may be one of the worst stretches of asphalt in Los Angeles, but BB Cullinan informs only about the worst bumps. It's smooth and quiet, remarkably so on freeways, but it's not equal to its Phantom brother. The fundamentals of the suspension easily control the motion and considerable weight of 22-inch wheels.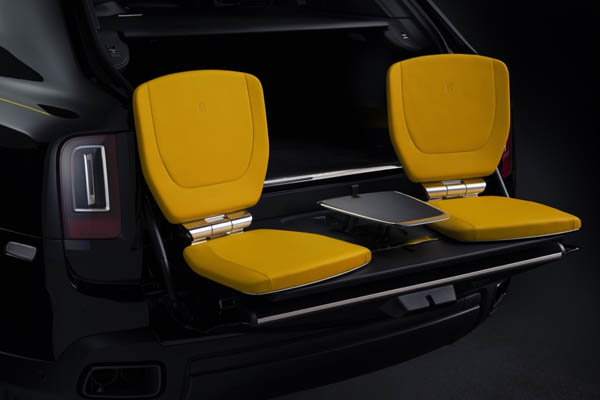 When testing the original Black Badge cars several years ago, I spent time in a Ghost with a kinky red leather interior. If it were my BB Cullinan to spec, I'd opt for black exterior with the same red leather of that Ghost, and carbon-fiber trim. Imagine the jaw dropping impact when the coach doors swing open and people standing nearby see that red leather den of iniquity.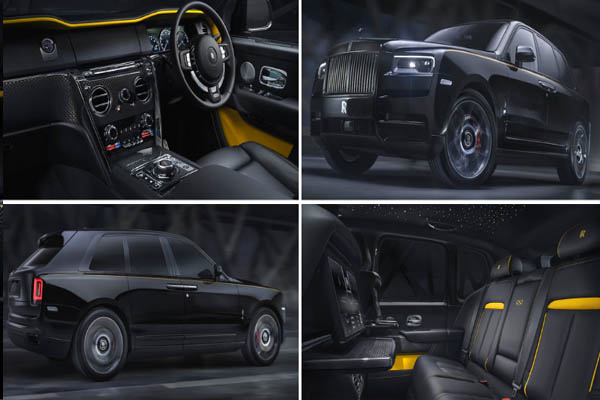 Last year was Rolls-Royce's most successful in history, Cullinan boosting production volumes by 25 percent without cannibalizing sales of other models. Sales topped at just shy of 5200 vehicles, considerably fewer than Ferrari or Lamborghini annual totals. Rolls ownership remains an exclusive club. Further proof that the BMW board should simply leave Müller-Ötvös as CEO and assign an understudy who can eventually succeed him. Obviously 2020 is a downer for most of us and no one will have sales matching 2019, but Rolls-Royce is reopening its Goodwood plant today, May 4, the anniversary of the first meeting of Charles Rolls and Henry Royce.
Cullinan's impossibly long hood, bold grille, chest-high deeply chiselled front fenders, and sheer mass hearken to the Classic era. My last moments with Cullinan, I stood at the front and worked the key fob to force the Spirit of Ecstasy to rise and dip from her safety chamber under the bodywork—an amusing activity, such an obedient woman. With notice of the Pebble Beach cancellation fresh in mind, my thoughts turned to the grand cars of the Classic era I'd miss this August, phaetons, torpedoes, and boattail speedsters, shoulder line up to the chest. Like those supernatural luxury cars of the Classic era, Cullinan is so grandly scaled it requires a man whose character and persona can balance its gravitational weight.