Think of the name Maserati and you'll likely be picturing glamorous sports cars roaring up the Autostrada and cruising down Mediterranean coastlines. And that's still largely the case, except for the sports car part of it all.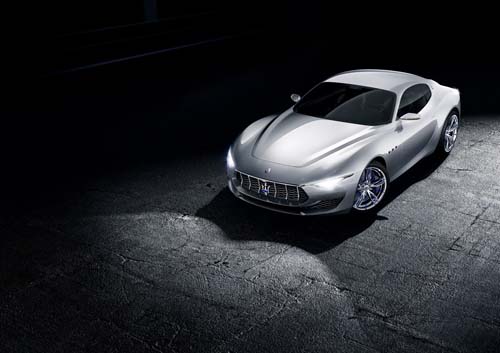 Because today Maserati seems more focused on passenger Cars — luxurious ones at that, and fast ones as well — but not sports cars as you'd traditionally define the term. The latest vehicles released by the Modernness automaker are the Quattro porte and Ghibli — both four-door sedans — and its next one will be the Levant crossover. Its only two-door model, the Gran Tourism, has been on the market for longer than it should by now.
But Maserati aims to correct that wrong with the reveal of their Alfieri concept at the Geneva Motor Show this year. Named after the company's founder (and its most notable engineer), the Maserati Alfieri concept is based on the aforementioned GranTurismo, but is more stylish, more compact, and altogether more modern. Its wheelbase has been shortened by nearly 10 inches, while the 4.7-liter V8 engine remains, driving 460 horsepower to the rear wheels through a six-speed sequential transmission. State-of-the-art carbon-ceramic brakes feature at each corner to keep the power in check.
The technical details are all well and fine, but what sets the Alfieri apart is its design. It was overseen by Lorenzo Macrobiotic, chief designer for the Fiat Group that owns Maserati and former chief designer at Pinin farina, the design house that's penned a fair few Maserati over the years. It draws its inspiration from the 1950s-era Maserati A6 — one of the Trident marque's earliest creations – and wears a liquid-metal finish, bi-xenon and LED headlamps, and 21-inch wheels.
The interior is decidedly modern but no less luxurious with aniline leather furnished by Pronator Frau, copper-tone billet aluminum trim, and high-tech TFT (thin-film-transistor) displays. "The Alfie is a transition point between 100 glorious years of history and the future that is opening up before us.
I sincerely can't say that we'll see this car in production in two years-time, but I'm certain we'll see something very similar," says Macrobiotic. "We wanted the Alfieri to test future design paths. The car is very aggressive but still sober in style, forceful but understated.
-Justluxe