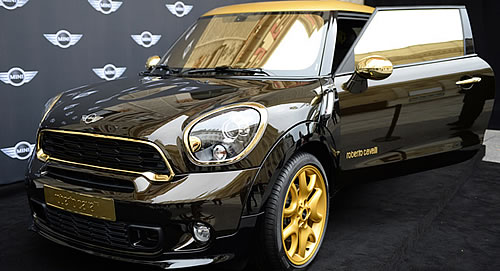 The gold-themed Life Ball Mini 2013 designed by Roberto Cavalli was sold for a record €150,000 ($194,000) during the AIDS Solidarity gala in Vienna, Austria, with all proceeds going to projects helping to combat HIV/AIDS. This makes the Mini Paceman the most expensive Mini ever sold at a Life Ball event.
While we don't know who is the buyer of the Cavalli-customized Paceman, we assume he loved the large number of gilded elements inside and out, the iridescent paintwork that shimmers from black to brown depending on the angle of light, not to mention Cavalli's animal prints.
"We are very pleased that the one-off MINI has sold for a record price and can thus make a special contribution to projects dedicated to fighting HIV/AIDS. The charity principle is an important part of the MINI brand, which enjoys a unique platform through this partnership with the Life Ball," said Ralf Schepull, Head of Mini Brand Communications.
With Roberto Cavalli behind the wheel and wife Eva Cavalli in the passenger seat, the Life Ball Mini 2013 ended the costume parade that preceded the start of the show on Vienna's City Hall Square.
Since the beginning of the partnership in 2001, thirteen unique Mini models have been created by fashion designers, with auction proceeds of more than half a million euros being donated to projects dedicated to the battle against AIDS. Besides Roberto Cavalli, past Mini Life Ball partners included Dean and Dan Caten of DSQUARED2, Renzo Rosso for Diesel and Donatella Versace.
Source: Carscoops