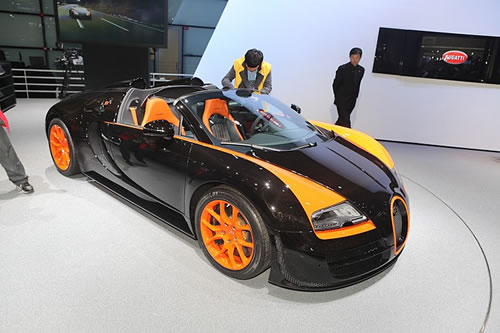 Bugatti has introduced the Veyron 16.4 Grand Sport Vitesse World Record Car limited edition. That's an awful mouthful for the name of a car – 254 mph (408.84 km/h) tells the story much more concisely, as does "world's fastest convertible." Just eight lucky multimillionaires will get to drive home in one of their very own.
Now that all the world record melee is over (for the time being), Bugatti can get back to what Bugatti does best – launching marginally altered versions of the Veyron at major auto shows around the world. Bugatti carefully planned a China-focused debut for the world's fastest convertible, inviting Chinese entrepreneur and car enthusiast Anthony Liu to drive the car into the TÜV-certified record books just prior to premiering the car at China's largest auto show.
"China is one of the most important markets in Bugatti's strategy for the future and we are aiming for a growth here that will be stable and sustainable," explained Dr. Wolfgang Schreiber, Bugatti's president.
The Veyron 16.4 Grand Sport Vitesse World Record Car receives no power increase or suspension tuning, relying on the Vitesse's plenty-potent 1,183-hp quad-turbo 8.0-liter W16, racing chassis and carbon monocoque. After having its Veyron Super Sport world record thrown into question, Bugatti was mindful to note that the Vitesse used in the world record run had no modified technology.
The separation between the Vitesse and World Record Car edition is entirely superficial, therefore, consisting of an Arancia orange on visible black carbon motif. The orange can be seen on key parts of the exterior, including the front wings, rims, grille surround and rear wing underside.
Not surprisingly, the Arancia-splashed black theme continues into the cockpit, where orange stitching permeates a largely black design with orange leather on the seats. The visible carbon also finds its way inside, dressing the top of the steering wheel, door inserts, center console extension, iPad console edging, belt outlet trims on the seats and EB logo in the leather back panel.
Bugatti will sell each WRC model for €1.99 million (approx. US$2.6 million) plus tax. According to Autoweek, all eight are spoken for.
Via: Gizmag