More importantly, this concept also features a new type of hydrogen storage tank. BMW has patented the technology and says it is now confident that not only is this new storage method the way of the future but also that a 'hydrogen economy' is the only way that Europe can disengage from fossil fuels over the medium term. 
[contentblock id=1 img=adsense.png]
BMW has long experimented with vehicles powered by hydrogen, with its first experimental model dating back to 1984.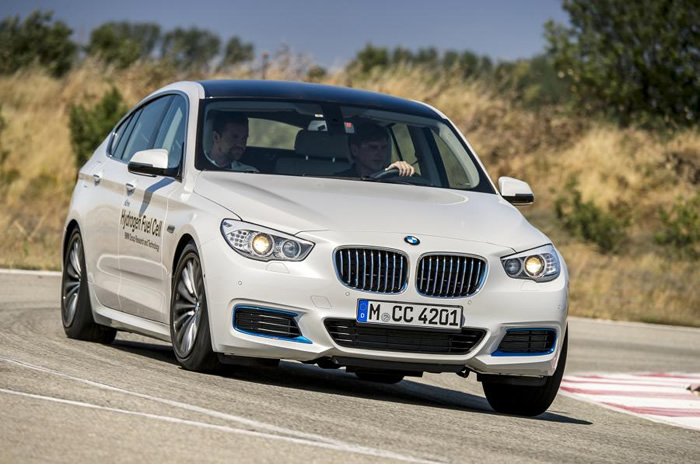 If you have a good memory, you might recall the 'Hydrogen 7', based on the V12 7 Series and built in very limited numbers until 2007. The car used a relatively conventional internal combustion engine, which, partly thanks to BMW's Valvetronic valve intake system, could run on both petrol and hydrogen. Since then, BMW and its hydrogen research went relatively quiet.
The arrival of the first serious battery-powered production cars and scepticism about the likelihood of a 'hydrogen economy' has, in recent years, put hydrogen fuel cell cars on the back foot. In 2013, BMW and Toyota signed a strategic collaboration on the development of hydrogen fuel cell drivetrains. This, BMW says, "provided fresh momentum for the development of FCEV drive technology". BMW says its big breakthrough with this new prototype is in the hydrogen fuel tank and refuelling technology.  While this concept fuel cell car looks like a standard BMW 5GT both inside and out, it is very different under the skin.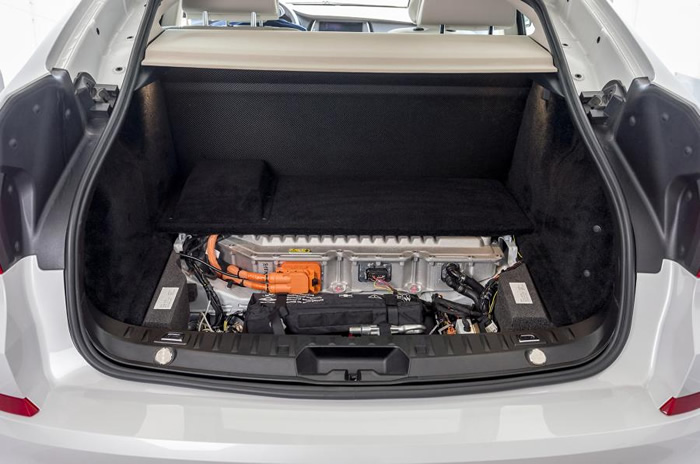 Changes were made to the car's structure, mainly in terms of crash safety for the fitting of the hydrogen tank and because the tank is bolted into the car as an integral part of the structure. Under the bonnet sits the fuel cell stack. Fully dressed with all the ancillary components, it's about the size of a conventional big V8. The core fuel cell stacks are a Toyota technology, with BMW supplying the new hydrogen tank, electric drive train and high voltage battery. When running under a relatively low load the fuel cell is 65% efficient in turning the hydrogen fuel into forward motion.
[contentblock id=2 img=adsense.png]
That's far better than any internal combustion engine. Under heavy load, however, the efficiency drops to 45%, which is slightly better than a typical turbodiesel engine. The rear wheels are driven by a 199bhp electric motor via a new two-speed dual-clutch automatic transmission. A very small 1kWh battery sits above the rear axle. The new storage tank is a huge multilayer construction. At its core is an aluminium pressure vessel which in turn is wrapped with a continuous carbonfibre-reinforced plastic filament.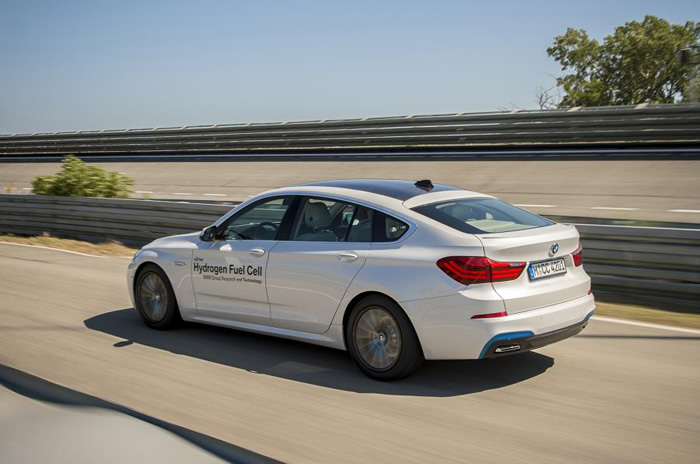 This wrapped layer is around 5cm think. Around that is a radiation shield, and between that and an aluminium casing forming the outside skin, there is cavity containing a vacuum. The tank's end caps are aluminium castings welded into place. Seen in isolation, the new tank looks like a noseless missile of the type you see hanging from the wings of jet fighters. The key advance of this 5GT is BMW's newly patented method of refuelling and storing the hydrogen fuel.
They call the tank a 'cryogenic pressure vessel', which is designed to be filled with hydrogen cooled to –220deg C. Super-cooling allows the tank to hold some 7.1kg of hydrogen, compared with just 2.3kg at the ambient temperature. BMW's engineers say that 7.1kg of hydrogen equates to a real-world range of around 434 miles. The refuelling also takes around five minutes. A today's hydrogen prices, that's around £50. Although this was an early engineering car, it felt tight and ran seamlessly.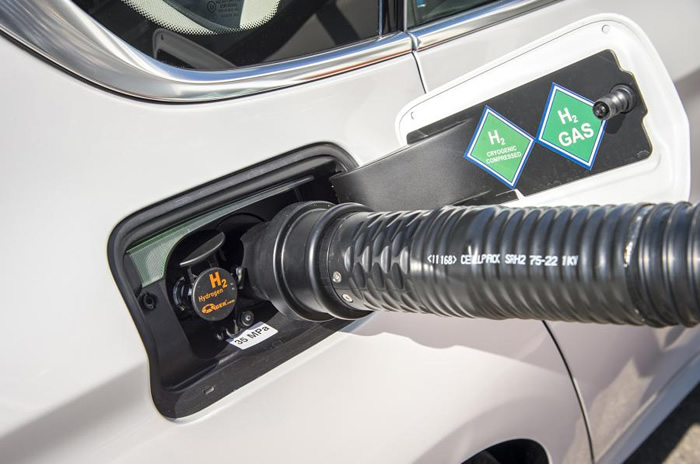 It's relatively swift and the handling and ride is improved over that of the standard production model, probably because bolting the tank into the structure has improved the body stiffness. As you might expect, the car was also impressively refined. One thing that struck most forcefully while driving was how difficult it will be for BMW's engineers to install any sort of individual character into any future fuel cell-powered executive car.
[contentblock id=3 img=gcb.png]
Electrically driven vehicles can all be remarkably similar in the way they drive, which is smoothly, quietly and briskly. You can't. BMW and Toyota say they hope to have the full components set for a mass-production-capable car ready by 2020. By then the hydrogen refuelling network should be more advanced, especially in countries such as Japan and Korea.