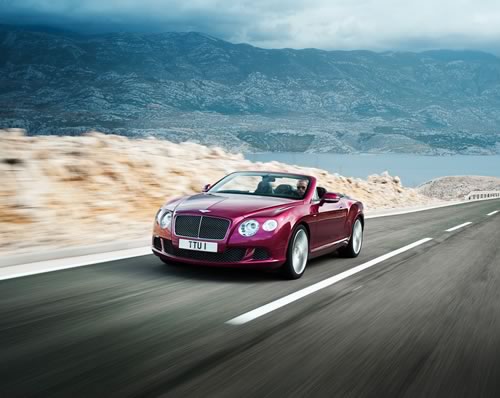 Earlier we saw leaked pictures of the Bentley Continental GT speed Convertible, due to make it's debut on the 14th January at the North American International Auto Show, Detroit. The final product exceeds all expectations, with the car being the fastest four-seat convertible in the world. The new GT convertible combines a 625 PS twin turbocharged 6.0-liter W12 engine with a contrasting 15 percent improvement in fuel efficiency. While it's unlikely that people who can afford this car will be concerned about fuel prices, it is nice to see a luxury auto brand like Bentley working towards a greener tomorrow. A matrix radiator grille and a bumper grill in a dark tint chrome finish mark the exterior of the GT Speed convertibles. 21" Speed alloy wheels set this car apart from other models in the Bentley family, while large elliptical exhaust tailpipes add an element of finesse. The front wings created in super-formed aluminum create an air of tension and muscularity. The gentle lip on the double horseshoe boot lid generates all the downforce required, rendering additional spoilers obsolete. The interiors hold their own when compared to the exteriors with a four-seat cabin that features the hand craftsmanship of the Mulliner Driving Specifications.
With the distinctive diamond quilted hide upholstery, Bentley is also offering an exclusive dark tint aluminum 'engine spin' finish inspired by Bentleys of the 1920s, as an alternative to the the range of fine wood veneers and satin finish carbon fiber. In the digital age, Bentley delivers with an infotainment systems that supports, live traffic data, satellite landscape imagery, point of interest mapping, 15 GB of musical space and the ability to play music from iPods, MP3 players and CDs. The music can be heard either through flat panel balanced mode radiator speakers or Naim for Bentley speakers. The volume will automatically adjust when the top is up or down.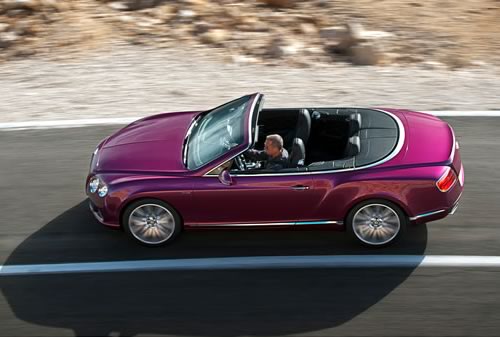 For most of us just the name Bentley is enough to make this car worth having, but the GT convertible is not just a pretty face it delivers on all the technical specs too. So for the true car aficionados amongst us The GT speed convertible shares the same power train specifications as the GT speed coupe. However unlike the speed coupe, the convertible features a close ratio quick shifting eight speed transmission and an energy recuperating system that improves the fuel economy and CO2 emissions. The dual personality of this beautiful car can be seen when you shift the gear selector into 'Sport' mode which allows you to gear shift at higher engine speeds and to block shift. The glorious snarl that can be heard from the free breathing exhaust as you go from 0 to 60 in just 4.1 seconds, will give you an unbeatable rush.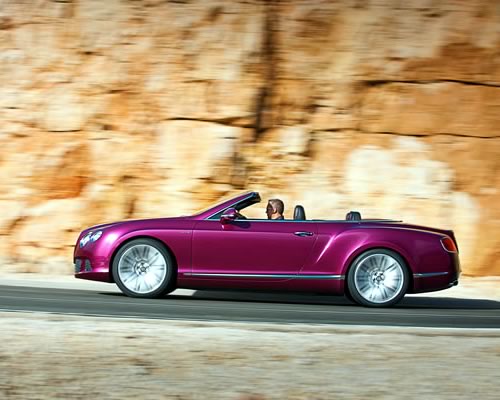 This incredible all wheel drive is perfect to drive all through the year with a 4-layer hood that has been extensively tested by Bentley.
Via: Bentley-Media