It's hard not to look at the Renntech A45 and immediately expect it to be something that's way over the top for UK roads, but the creation isn't as monstrous in practice as it first appears. 
[contentblock id=1 img=adsense.png]
The dampers are a particular success. Yes, they're firm enough that you'll get lots of short-frequency vertical movement in town or over undulating country roads.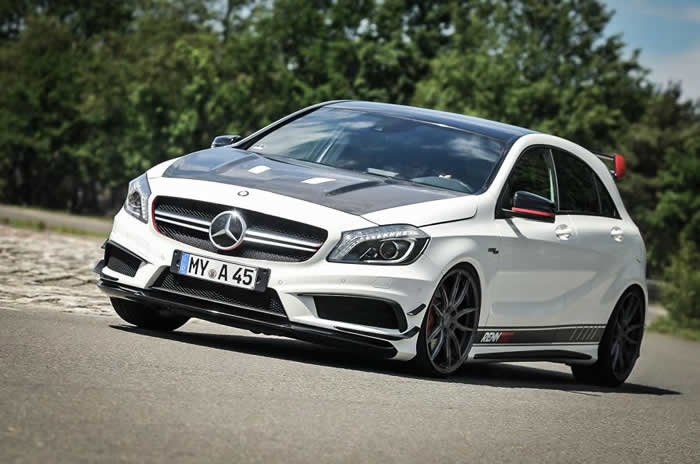 More importantly, however, the actual bump absorption and resistance to awkward cambers is effective and sophisticated enough that it keeps the car from skittering over fast mid-corner bumps or jarring uncomfortably over potholes. Stick the seven-speed dual-clutch automatic gearbox in Comfort in order to tame the exhaust and, although tyre and engine noise are still a background hum, the Renntech A45 is also an acceptable long-distance commuter. And the engine? The standard AMG take on this 2.0-litre turbocharged motor is pretty remarkable in terms of its outright potency.
This has much the same feel, only more, and of just about everything. In particular, it feels much punchier at high revs. Boom past 4500rpm and on to 5000rpm and the Renntech gets a sudden extra surge, keeping up the rate of acceleration with real gusto when the standard A45 would be spinning into its wheezier realms. Short gearing in the first three ratios also lends a frantic, blink-and-you'll-be-at-the-limiter kind of entertainment to full-bore accelerations, particularly if you spice it up further with the impressively effective launch function.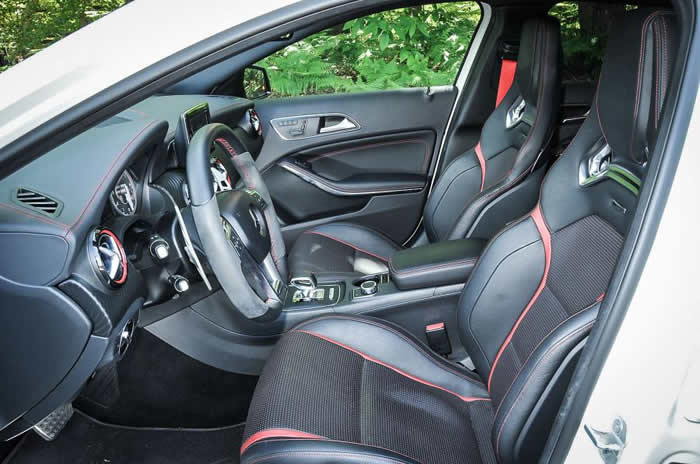 Is the engine any more characterful? Probably not. A Porsche flat-six is still going to be sweeter revving and more linear, while a BMW M135i's powertrain has a more progressive nature to it, but there is real entertainment in the sheer explosiveness of this A45. The seven-speed dual-clutch automatic gearbox is – as with the standard car – adept at blurring changes in anything up to eight-tenths driving, but can be a little reticent to down change when you want it to in really hard use. Occasionally it'll hesitate for a surprisingly long, frustrating moment on step-off, too. 
[contentblock id=2 img=adsense.png]
The handling, characterised by that active four-wheel drive system, is still great for rampant speed and predictability but remains a bit disappointing in terms of adjustability. You can go headstrong on the brakes into a corner (the upgraded brakes are feelsome and resist fade well), turn in and it hangs on gamely for an impressively unintimidating way to go supercar-fast. The steering is predictable and offers a decent level of feel and oily progressiveness, too.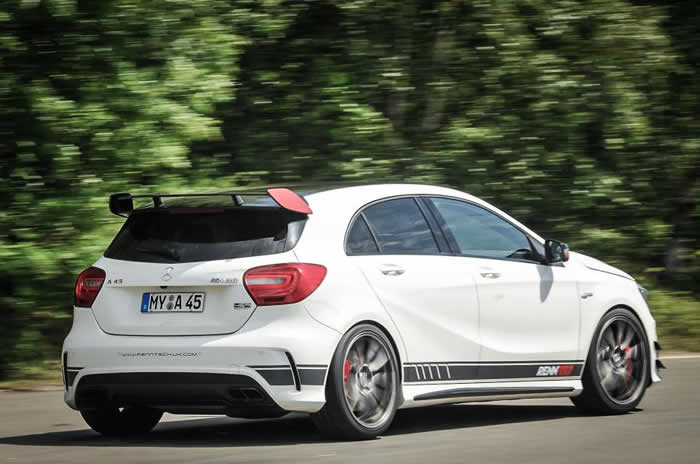 But try and adjust this A45 on the throttle and you get a dead-pan lack of response beyond either more or less understeer; the rear axle just won't play. Not much has changed in the interior, although you can add a few bits. These include the elongated gearshift paddles (which we couldn't get a UK price for at the time of writing) which are certainly more immediately to hand than the standard paddles.  This is where it gets tricky. After all, we had a riot in the Renntech A45.
You think you've grown up and got over the song and dance of it all, but then a bit of open road arrives that will allow you to feed your hunger for the 5000rpm second wind, or you find yourself driving alongside wall off which to bounce the noise of the explosive upshift, and you just can't help yourself. But the money makes this a really hard one to get your head around. After all, our car's unashamedly brazen exhaust note is in part due to the fact that this A45 has Merc's factory option £510 AMG sports exhaust fitted before Renntech even gets its hands on it.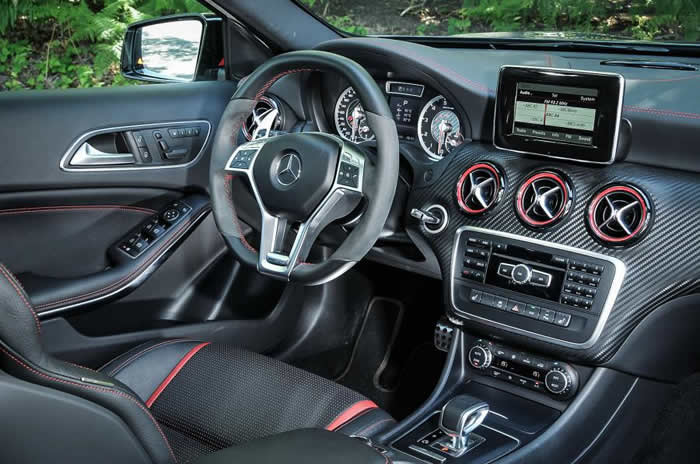 So by the time you've bought your A45 and added sat-nav and the sports exhaust, you've spent £40k and haven't even got metallic paint and big wheels yet. Then, even without the Renntech alloy package, you're spending £5649 as a minimum for engine, chassis and brake mods, or £7275 if you go for the Clubsport set-up we had.
[contentblock id=3 img=gcb.png]
And all that's not including the £2000 exhaust tweaks. So with £46k and up a realistic post-options price for your Renntech A45, and with your manufacturer warranty invalidated and none yet offered by official UK supplier Collins Performance Engineering, you've got to wonder whether it's worth the money. Or more realistically, you've probably got to come to the conclusion that it's not worth the money. if slightly less scorchingly rapid hot hatch, starting with the Volkswagen Golf R, Audi RS3 and BMW M135i, or even the standard Mercedes A45 itself.