Chris Pratt singled out his wife Anna Faris during his opening monologue on Saturday Night Live and she sweetly surprised him at the end of his first hosting effort. The 35-year-old actor opened the show by expressing his excitement.
[contentblock id=1 img=adsense.png]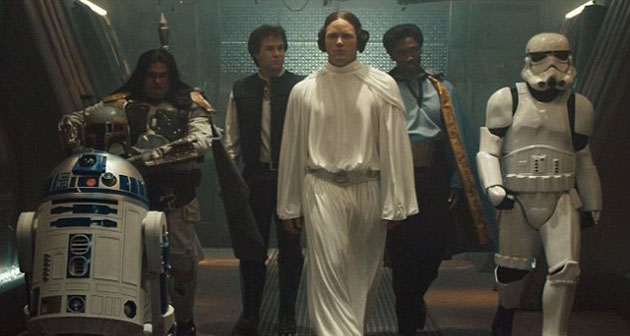 'I am so pumped to be here hosting the season premiere of Saturday Night Live,' Chris told the studio audience. He said he always had a 'connection' with the show even when he was a college dropout living in Hawaii. 'I literally lived in a van down by the river,' he said in sly reference to a 1990s skit by late SNL regular Chris Farley.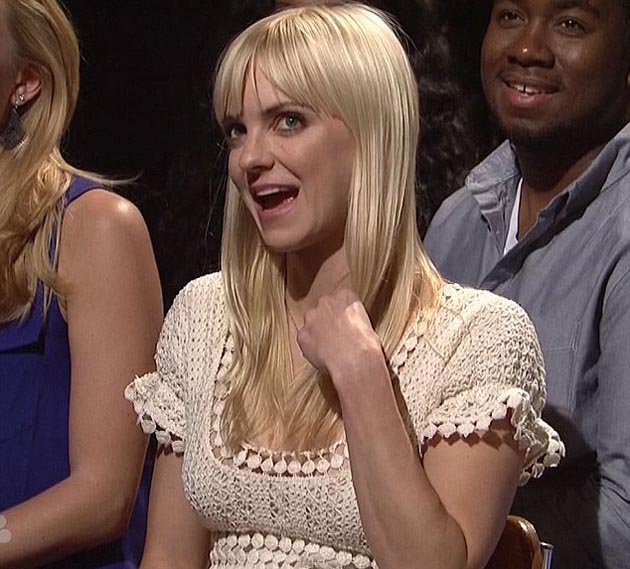 Chris told the audience that he lost 60 pounds for his lead role in the summer blockbuster Guardians Of The Galaxy that is the highest grossing movie of the year. 'I found this great diet. It's called the "Hey fat a**, get into shape so you can get into my movie" diet. It actually really works. I'd recommend it,' Chris said. The Parks And Recreation star then strapped on a guitar and started singing a song due to his excitement.
[contentblock id=2 img=adsense.png]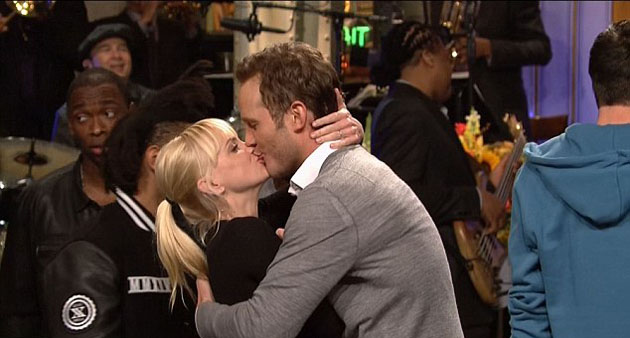 'Home is where the heart is and mine's right here. It belongs to that hottie in the audience right there,' Chris sang as he pointed to his 37-year-old wife of five years. As the cameras cut to an embarrassed looking Anna, he continued: 'Her name's Anna Faris and she's hosted twice. We had sex and a baby popped out.' Breaking away from the song, he added: "It's true. Do you remember that?' Oh yeah,' Anna replied.
[contentblock id=3 img=gcb.png]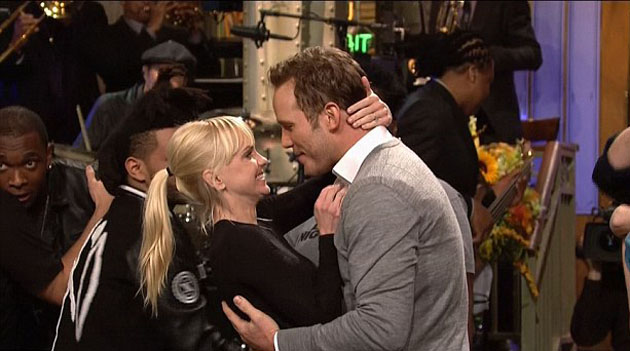 Pratt, who played the Star Lord in Guardians of the Galaxy, took on the role of He-Man for a skit about a young boy's toys coming to life on his birthday. While SNL comic Taran Killam played Lion-O from ThunderCats, musical guest Ariana Grande joined in the fun as He-Man's twin sister She-Ra. The trio just about managed to keep straight faces as the skit saw them rubbing their crotches and feasting on cake before smashing up the family's kitchen.