Anna Kendrick has taken to Twitter to deny rumours she is dating Game Of Thrones star Alfie Allen. 'Ahh, this has been hilarious and all but, nope. My apologies to Mr. Allen, who must be equally confused:)' she tweeted on Wednesday. The 29-year-old was responding to reports that she and the actor are an item after they allegedly enjoyed a date in Las Vegas last week. The duo apparently asked for 'a dark table' at SushiSamba, where they were seen enjoying drinks together, reported the New York Post.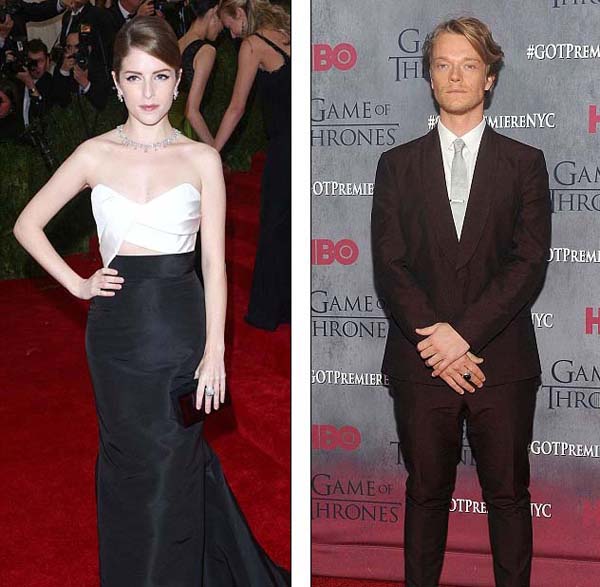 Anna ended her four-year relationship with director and producer Edgar Wright last year, and hasn't publicly dated anyone since. Alfie, who is the younger brother of British singer Lily Allen, broke up with actress Jaime Winstone last month. In an interview with Elle in July, the actress admitted that she 'honest to god' hasn't been 'hit on' since 2009. The Twilight star says the last time she recalls a man flirting with her was around the time she played her Oscar-nominated role opposite George Clooney in Up in the Air, when she was 23. Anna also downplayed her natural good looks, telling the magazine: 'I'm lucky that I've never had a crisis about whether the only reason I'm successful is because I'm crazy hot.'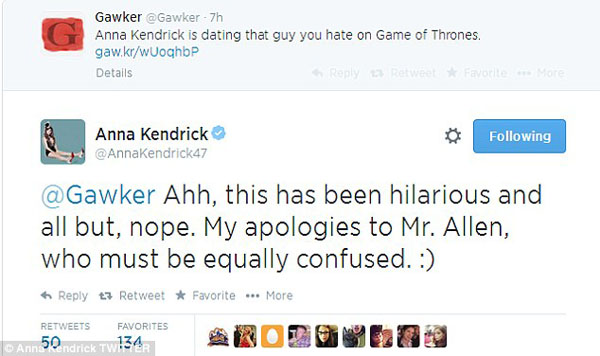 Anna is currently juggling seven acting and singing projects, including the highly-anticipated Pitch Perfect sequel, in which she plays a reclusive college freshman who joins an all-girl Capella group called The Barden Bellas. Her hit song Cups, which she recorded for the wildly popular original Pitch Perfect soundtrack, spent 44 weeks on Billboard's Hot 100 in 2013. In June, Anna hosted her first Saturday Night Live show, along with fellow jokester Seth Rogan.