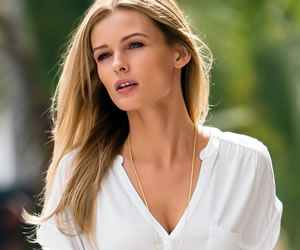 Today's world is the world of glamour and entertainment that gives a welcoming platform to fashion industry. And the off shoot is advertisement, in various forms and shapes with feminine faces, as an integral part. Amongst the most successful ones is the face of Edita Vilkeviciute. She is a shining star who lights up the sky of fashion industry. Super model Edita Vilkeviciute has stunning looks, eyes that can charm anyone and everyone and add to that her pleasant behavior and you have a most acceptable lady of glory, who has secured the top position in this industry, within no time.
Model Edita Vilkeviciute was in her teens when she started her career. Barring a few initial hiccups, which she considered soft obstacles, her route to glory and fame has been smooth and ranking as a top model has fallen in her lap almost as a right. Recognition by top brands has been almost automatic and along the way leading magazines have sought her without hesitation. As a result her presence on the cover pages of leading magazines is no surprise.
Early Life:
Edita Vilkeviciute belongs to Lithuania, and birth year is 1989. Edita Vilkeviciute belongs to a family with a rather humble economic status. Full of enthusiasm, even as a little girl, she had some natural instincts which made her accept challenges without demur. The gifted looks were what Nature chose to endow her with. And traits like light brown hair, shining blue eyes and perfect physique made her an attraction wherever she went, and as for her interaction with the fashion world she took it on with ease and comfort. From the moment she stepped into college supermodel Edita Vilkeviciute became a fashion world discovery and opportunities just travelled to her, fulfilling all that one can think of.
Career:
A Lithuanian model, Edita Vilkeviciute, signed her first modeling assignment with Women Management in Milan in early 2000. Since she was spirited and enthusiastic, supermodel Edita Vilkeviciute made her way to VIVA in Paris in 2006. Not only this, Edita Vilkeviciute was a career oriented model and she did not miss any opportunity that could be useful to building and in her career and in a few years she walked for famous brands like Paul Smith, Preen and Marios Schwab in London. Due to packed schedules, supermodel Edita Vilkeviciute couldn't participate in the fashion weeks of Milan and New York, and she felt bad about it.This she made up by ensuring participation in Paris Fashion Week in 2008. On this big occasion model Edita Vilkeviciute walked for Balenciaga, Chanel and Louis Vuitton. In the same year, she participated in the Victoria's Secret Fashion.
Edita Vilkeviciute walked for:
During the 2009, spring season, supermodel Edita Vilkeviciute walked over 35 runways for some of the leading world's brands designers such as; Shiatzy Chen, Chanel, Stella McCartney, Dollace and Gabbana and Zac Posen. Edita Vilkeviciute has also participated in special segments of fashion shows like "Country Girls" and PINK Planet.
Edita Vilkeviciute on Cover Pages:
Model Edita Vilkeviciute has added value to many cover pages of known fashion magazines and the most prominent ones are Vogue in Germany and France, Allure and Zac Efron. Currently, supermodel Edita Vilkeviciute is the face of Karl Lagerfeld, GAP, Dior and Armani. She has also replaced a leading model by appearing on the cloth advertisement of Etro. 2012 is the year that further enhances the acceptability of Edita Vilkeviciute as she is now the leading face and model of Calvin Klein's new fragrance.