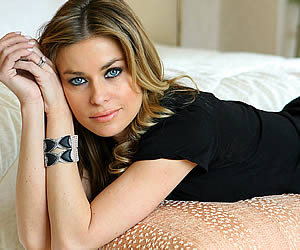 The hot and sizzling Carmen Electra is the heartbeat of many men out there. The talented and the stunning Carmen Electra has gathered herself many fans who wants to know about her that what is happening in her life and career.
A Little About Carmen Electra:
Carmen Electra was born on April 20th, 1974 in Sharonville, Ohio, U.S. However Carmen Electra is not her real name. Tara Leigh Patrick is the real name while Carmen Electra is her stage name. She is an American actress, a glamour model, dancer and a singer. She is the daughter of the famous entertainer and guitarist Harry and a singer Patricia. As Carmen Electra was born was such great talent, she attended the school for Creative and performing arts at the age of 9 to polish her talent and skills for the glamour, entertainment world.
While she was studying in the school she started taking singing lesson to tune her vocal chords and by the time she was a teenager, she performed skillfully in Musicals as a dancer and used to do her own choreography with taking any help from anyone. She was also pursuing her ultimate dream of going to Los Angeles and signing a deal with a record label to become the heart throbbing idol of many. Working real hard for it, Carmen Electra finally at the age of 15 she was on her way to make her dream a reality.
She also studied dance from Dance Artists dance studio under Gloria J. Simpson in Western Hills.
Carmen Electra Career:
Carmen Electra started her profession career as dancer in 1990. She used to perform in Kings Island Amusement Park's very popular show "It's Magic" in Mason, Ohio. Carmen Electra met Prince in 1991 after when she moved to California and signed a recording contract with his "Paisley Park Records" and began her singing career however her singing career continued only for a small period of time. This is when she got her stage name, Carmen Electra and released a self-title music album in 1993 containing 12 songs.
Carmen Electra gave her first television appearance in 1995 and got featured in the Playboy magazine in 1996 from which she got fame and started getting much higher profiled appearances on television. Her television appearances include "Baywatch (from 1997 to 1998)". Later she appeared in MTV's show "Singled Out" and later she once again appeared in Baywatch's reunion movie Baywatch: Hawaiian Wedding.
Carmen Electra appeared in quite a few movies as well which include:
American Vampire (1997)
Good Burger (1997)
The Mating Habits of Earthbound Humans (1999)
Scary Movie (2000)
Meet The Spartans (2008)
Scary Movie 4 (2006)
Epic Movie (2007)
Date Movie (2008)
Disaster Movie (2008)
Carmen Electra has also appeared as a guest judge in Britain's Got Talent show replacing Amanda Holden.
Carmen Electra Personal Life:
Carmen Electra was married twice in her life but both of her marriages didn't last long. Carmen Electra was first married to the basket ball star Dennis Rodman in 1998 but got divorced a year later. She later married to the lead guitarist of the Rock Band's Jane's Addiction, Dave Navarro in 2006 and same as before got divorced a year later. It was heard that Carmen Electra got engaged to Rob Patterson who is the member of the bands Filter and Otep. However Carmen Electra is sill single and she also appeared in the famous dating TV show The Choice in 2012.