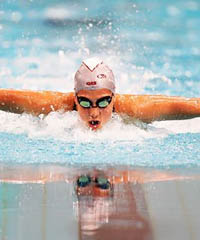 Stephanie Rice born 17 June 1988 in Brisbane, Queensland is an Australian swimmer. She currently holds the world record in the 400 m women's individual medley, and won three gold medals at the 2008 Summer Olympics in Beijing. Rice is trained by Michael Bohl from the St Peters Western Swimming Club in Brisbane. She was awarded the Medal of the Order of Australia on 26 January 2009.
Rice was the gold medallist in the 200 metres individual medley at the 2006 Commonwealth Games in Melbourne, Australia where she defeated Olympians Brooke Hanson and Lara Carroll to claim the gold medal in the event in a time of 2:12.90, a personal best by 1.19 sec. She also won the 400m individual medley.
At the 2007 Melbourne World Championships she won a bronze medal in the 200m individual medley in a time of 2 minutes 11.42 seconds, breaking the previous Australian record by a second. American Katie Hoff won the gold in 2:10.13, with Kirsty Coventry of Zimbabwe in second place. Rice once again placed third, earning her second bronze medal in the 400m individual medley final. In a new personal best time Rice finished in 4:41.19, taking 0.54 sec off her previous best.
Rice continued her strong performance, setting a new personal best time in the 400m individual medley at an Italian meet in June 2007. Rice went a 4:40.79, edging closer to the elusive 4:40 barrier in the event. At the 2007 Japanese Open Championships, Rice smashed her personal best time in the 400m individual medley and finally cracked the 4:40 barrier. In placing second to Zimbabwean champion Kirsty Coventry, Rice set a new Australian and Commonwealth record of 4:37.18, a personal best by 3.61 sec.
At the 2008 Australian Olympic trials, Rice broke the world record in the 400 m individual medley. Rice stopped the clock at 4 minutes 31.46 seconds, 1.43 seconds off American Katie Hoff's mark of 4:32.89. On 29 June 2008, at the U.S. Olympic Trials, Hoff regained the world record from Rice with a time of 4:31.12. Rice claimed her second world record of the meet, when she broke the 200 m individual medley world record, clocking 2 minutes 8.92 seconds to slash almost a full second off the previous record held by China's Wu Yanyan.
At the Beijing Olympic Games, Rice received her first-ever Olympic medal, Australia's first gold medal of the games and its 400th summer Olympic medal, winning the 400m individual medley in a time of 4 minutes 29.45 seconds. In the process she reclaimed the world record from Hoff bettering the mark by 1.67 seconds, thus becoming the first woman to break the 4:30 in the event.