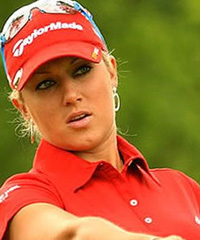 Natalie Anne Gulbis was born on January 7, 1983, in Sacramento, California. Natalie's father John worked for the Sacramento County Probation Department, while her mother Barbara continues to act as purchasing director for a Sacramento medical laboratory. Natalie first hit the links at age 4, when her father began to teach her to play golf. She soon fell in love with the sport. At 7, she won her first tournament, and by 10, young Natalie was already breaking par.
In 1996, 13 year old Natalie finished in second place in the California State Women's Amateur tournament. The top spot went to another future LPGA player, Dorothy Delasin. The following year, however, Natalie came back to win the tournament. That same year, she became the youngest player to ever qualify for an LPGA event, playing in the Long Drugs Challenge. Natalie would hold this record until 2002, when 12 year old Michelle Wie made fresh claim to it.
Natalie continued developing her golf game at Granite Bay High School, where she played on the boys' team. Despite the fact that she was also committed to gymnastics and diving, Natalie still excelled academically, and graduated early, at age 16.
On the strength of her high school scores, Natalie was given a scholarship to Arizona State University in 1999. At that time, Arizona's golf team was the defending NCAA champs. In her freshman year, Natalie won three tournaments and was recognized with All American honors. The next summer, she qualified for the US Women's Open, was ranked 34th among amateurs, and then was named MVP at the USA Japan Collegiate Golf Championship. On the strength of these achievements, Natalie made the decision to turn pro.
Natalie went to the LPGA Qualifying Tournament (aka "Q School") in the fall of 2000, and earned a spot on the tour on her first attempt. In 2001, Natalie moved to Las Vegas, Nevada. Her reason for doing so was initially strictly for tax purposes, but she soon grew to love her new home on Lake Las Vegas, about 30 minutes from the strip. Another advantage to her new location was its proximity to the Butch Harmon School of Golf, where she could take daily instruction from the same man who tutors golf heavyweights like Tiger Woods and Adam Scott.
In 2002, Natalie tied for fifth at the ShopRite LPGA Classic and for fourth at the Giant Eagle LPGA Classic. These two performances propelled her into second place in the Rookie of the Year points standings. The following year, Natalie tied for 12th at the Chick fil A Charity Championship and scored a career low 63 in the third round of the Welch's/Fry's Championship. In 2004, Natalie finished in the Top 15 in five tournaments and carded her first LPGA career hole in one in the final round of the Safeway Classic.
In 2005, Natalie released her second calendar. The first annual 2004 edition was deemed "too provocative" by the USGA, who cancelled Natalie's signings, but it still proved to be a very successful enterprise. Natalie has also played on many charity and Pro Am events, where she has teed off against such celebrity athletes as Roy Jones Jr., Michael Jordan and Barry Bonds.