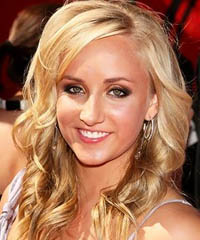 Nastia Liukin
Anastasia Valeryevna "Nastia" Liukin born October 30, 1989 is a Russian-American artistic gymnast. She is the 2008 Olympic individual all-around Champion, the 2005 and 2007 World Champion on the balance beam, and the 2005 World Champion on the uneven bars. With nine World Championships medals, seven of them individual, Liukin is tied with Shannon Miller and Alicia Sacramone as the American gymnasts having won the most World Championship medals. Liukin has also tied Miller's record as the American gymnast having won the most medals in a single non-boycotted Olympic Games.
The daughter of two former Soviet champion gymnasts, Olympic gold medalist Valeri Liukin – the first man to do a triple backflip – and World Champion rhythmic gymnast Anna Kotchneva, Nastia Liukin was born in Moscow and moved to the United States as a young child. She began gymnastics after spending time in the gym while her parents coached. Liukin is coached by her father at the World Olympic Gymnastics Academy, her family's gymnastics club in Plano, Texas.
Liukin became a member of the U.S. junior national team when she was 12 years old and won the National all-around title at the age of 13. She was the all-around silver medalist at the 2003 Pan American Games. Since 2005, Liukin has been a key member of the U.S. senior team. She is a four-time all-around U.S. National Champion, winning twice as a junior and twice as a senior. She has been the U.S. senior National Champion on the uneven bars since 2005. Liukin has represented the United States at three World Championships, the 2003 and 2007 Pan American Games, and the 2006 and 2008 Pacific Rim Championships.
In the team finals, Liukin performed on three events: beam, bars and floor exercise. Her uneven bars score of 16.900 was the highest mark awarded in the entire Olympic competition. Liukin performed second on balance beam, matching her qualifying score of 15.975. On floor exercise, she stepped out of bounds on her first tumbling pass, incurring a 0.10 point penalty. The American team earned the silver medal, 2.375 points behind China.
On August 15, Liukin performed clean routines on all four events (sticking her landings on 3 out of 4 events) to win the all-around gold medal with a final score of 63.325