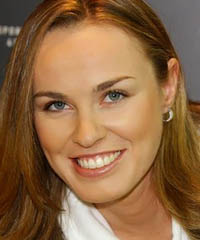 Martina Hingis (born 30 September 1980 in Slovakia, then Czechoslovakia) is a retired Swiss professional tennis player who spent a total of 209 weeks as World No. 1. She won five Grand Slam singles titles (three Australian Opens, one Wimbledon, and one US Open). She also won nine Grand Slam women's doubles titles, winning a calendar year doubles Grand Slam in 1998, and one Grand Slam mixed doubles title.
Hingis set a series of "youngest-ever" records before ligament injuries in both ankles forced her to withdraw temporarily from professional tennis in 2002 at the age of 22. After several surgeries and long recuperations, Hingis returned to the WTA tour in 2006. She then climbed to world number 6 and won three singles titles. On 1 November 2007, Hingis announced her retirement from tennis after testing positive for cocaine during Wimbledon in 2007. She denied using the drug. On 4 January 2008, she was banned from tennis for two years after both cocaine tests (samples A and B) tested positive.
Hingis has dated Spanish golf player Sergio García and British footballer Sol Campbell. She was briefly engaged to Czech tennis player Radek Stepanek, but split from him in August 2007. She has also dated former tennis players Magnus Norman, Ivo Heuberger and Julian Alonso. In March 2010, Hingis announced that she was engaged to marry Andreas Bieri, a Swiss attorney, but has since broken off the engagement.
By winning Wimbledon doubles title in 1996 with Helena Sukova became youngest doubles winner at 15 years, 282 days and youngest ever Grand Slam winner in the Open era.
By winning Australian singles title in 1997, became youngest winner there in tennis history at 16 years and 3 months.
By defeating Monica Seles 6–2, 6–1 in 1997 at Key Biscayne, ascended the no. 1 spot as the youngest ever in tennis history.
By winning the US Open against Venus Williams in 1997, Hingis contended all Grand Slam tournament finals that year; second youngest winner in the US Open at 16 years, 11 months and 8 days.
Won the Australian and US Open in 1997 without losing a set.
In 1997, from Sydney to the final of Roland Garros created a 37-match winning streak, best from 1995 until present.
By winning the US Open doubles title in 1998 with Jana Novotná, completed a doubles Grand Slam third in the Open Era.
Held simultaneously the no. 1 position for singles and doubles in 1998.
Most successful player to play the Toray Pan-Pacific Tournament with 5 wins in 1997, 1999, 2000, 2002, 2007, and reached 8 finals in 1997, 1998, 1999, 2000, 2001, 2002, 2006, 2007.
Ended her career with 103 top-10 wins (behind Lindsay Davenport at 129), 43 singles titles, 37 doubles titles, 1 mixed title, and 209 weeks at no.1 (4th behind Steffi Graf, Martina Navratilova, and Chris Evert).