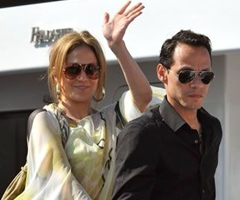 Jennifer Lopez and Marc Anthony celebrated their sixth wedding anniversary by renewing their marriage vows over the weekend A HOLLYWOOD NEWS is reported today.
The twice-divorced Wedding Planner star celebrated six years of marriage with the salsa star during a housewarming party at their new Hidden Hills, California residence Saturday, PEOPLE Magazine tipsters report.
Tom Cruise and Katie Holmes, David and Victoria Beckham, and Brad Pitt and Angelina Jolie were among the most notable of the 200 guests who received a "A New Beginning, Please Join Us As We Warm Our House" invitation to attend the Lopez-Anthony anniversary celebration.
The color scheme of the party was black, chocolate brown, and white, while several outdoor lounge areas were set up with French Regency style couches, tables, lamps, and mirrors.
Marc and Jennifer married on June 5, 2004. The couple has two-year-old twins, Max and Emme.
(source: ahollywoodnews.com)