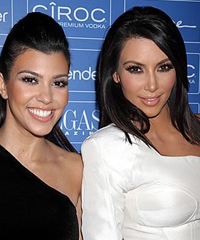 KIM Kardashian was all smile as she exited NYC's STK restaurant earlier this week — with her new boyfriend in tow. The socialite and reality TV star made her first public appearance with Dallas Cowboys wide receiver Miles Austin.
The couple — who recently started dating — were celebrated Miles' 26th birthday. "Kim threw Miles a birthday party," a source said.
Kim's sister Kourtney Kardashian, 31, also showed up with boyfriend Scott Disick, according to Us Weekly magazine.
Kim, 29, and Austin apparently hooked up a couple of months ago and have had a "few dates" since.
"They met at a restaurant in L.A. a few months ago and exchanged numbers and have been talking ever since," a source told People magazine. "They've had a few dates and it's going really well.
"While they're officially dating, he's not quite her boyfriend. "They're taking it slow. She thinks he's a really good guy. He's really sweet to her. … He thinks Kim is his dream girl.
"They just really connected." Back in May, Kim said she was single and on the hunt for a husband. "I do not have a boyfriend. I'm on the market and I'm really happy," she said. "I haven't been single for years. I never thought I'd like to be single, but I'm on such a schedule that allows me to wake up at 5.30 in the morning and go to the gym.
"I'm not really the dating type. I'm a relationship sort of girl so you won't see me out so much. "I really feel that the next one that will come into my life will be my husband."