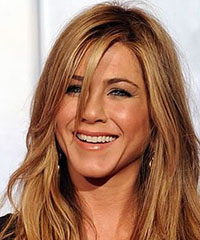 Jennifer Aniston was born on February 11, 1969 in Sherman Oaks, California to Nancy and John Aniston (Victor Kiriakis on Days of Our Lives).Aniston, who is Greek, spent a year of her childhood living in Greece with her family but later, moved to New York when her father landed a role on the daytime drama, Love of Life. Aniston's parents separated when she was 9 years old. After the divorce, she was raised in New York City by her mother. Jennifer Aniston was inspired to act after seeing the play Children of A Lesser God on Broadway. At 11, Aniston joined the Rudolf Steiner School's drama club.
Aniston was, and still is, a very talented artist and at the young age of 11, one her paintings was displayed at an exhibit at New York's Metropolitan Museum of Art.At 15, Aniston was accepted to New York's High School For The Performing Arts. In 1987, after graduating from high school, Aniston spent a year living at home with her mom. She did not want to go to college. Instead, she worked at a burger joint called Jackson Hole in Manhattan. During those burger pushing days, Aniston won roles in the Off Broadway productions of For Dear Life at New York's Public Theater and Dancing On Checkers Grave.
Looking for more of a challenge, Aniston moved west where she met soon to be friend, Matthew Perry (Chandler Bing).During 1989, Aniston was cast in a handful of television shows. In 1993, Aniston won a part in Leprechaun. In those years, Aniston made a name for herself as an actress who would take risks and graciously accept criticism of herself and her work.Then, a pilot of a show called Friends Like Us came along. Aniston was originally tested for the role of Monica, but she told the producers that she felt much more comfortable with the Rachel character and they agreed.Life wasn't all easy for Aniston though.
Before getting the role of Rachel Green on Friends, Aniston was told to lose some weight and she did. She lost 30 pounds. Now, as the girl everyone wants to look like, fame has proven to be a bit daunting for Aniston. Now, her passions for things like antiquing, hiking, and travelling have been halted, for the time being. She can no longer go out into public without being stopped for autograph requests or photos and finds the worst part of her newfound celebrity status is meeting a man. However, that doesn't seem to be a problem anymore because Jennifer Aniston is currently going out with actor  Tate Donovan.