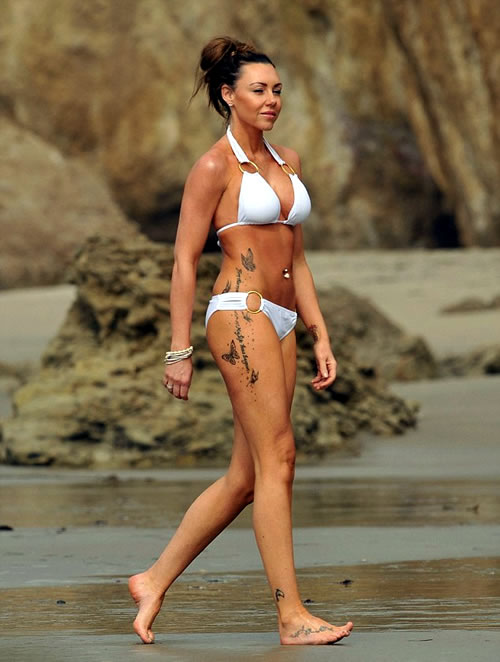 She's always been open about the struggle with her weight, which she's battled since the beginning of her career. But Michelle Heaton looked as taut and toned as ever as she sunned herself on a Los Angeles beach earlier this month, showing off the new love tattoo on her stomach and thigh. Looking body confident, the Liberty X star treated herself to some alone time in the sunshine, relaxing in a bright white bikini.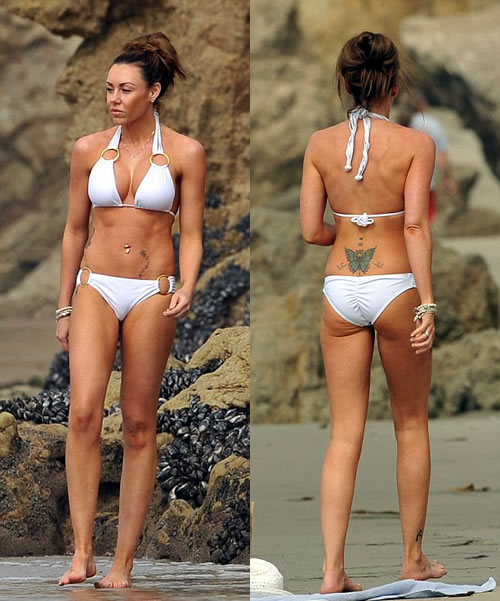 The 33-year-old, who has had a tempestuous year after undergoing a double mastectomy, seemed happy and at ease with her figure as she strutted around the beach without a cover-up. After making it through her ordeal, the singer seems to have regained her confidence and looks like she's trying to enjoy her life as much as possible. Showing of her perfectly toned figure, the star wandered around the quiet bay before reclining on the sand to soak up the rays.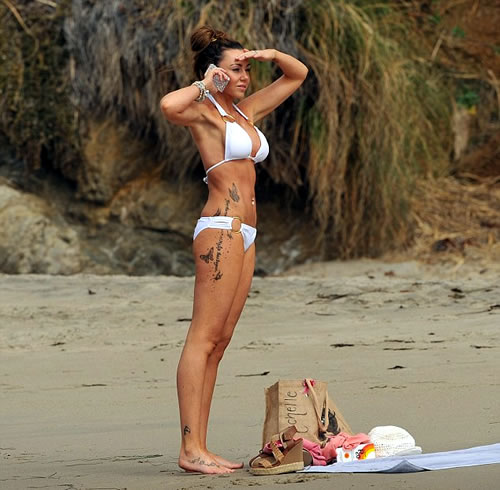 Smiling to herself, Michelle looked like she was having a great day on her own in the sun, taking the opportunity to to have a little alone time. She twisted her long dark hair up into a messy bun on top of her head and wore minimal make-up for her beach day. The pop star topped up her already bronzed skin as she reclined on her towel, and started chatting on her sparkly phone to keep herself entertained. Michelle showed off the full extent of her new tattoo for the first time during her beach day, having recently extended the love tribute to husband Hugh Hanley.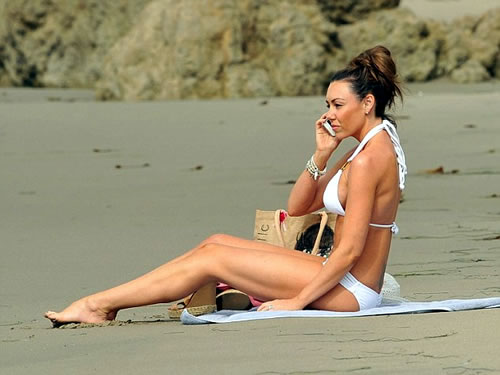 She got the original inking back in 2010, but three years later has added a number of small butterflies around the original, which reads 'from this moment 19.07.10.' The beautiful insects aren't a first for Michelle though as she already has a large butterfly on her lower back and one on her wrist. Her wrist tattoo also features her husband's name above the butterfly and beneath the yellow winged image her daughter's name Faith is written with three hearts below it.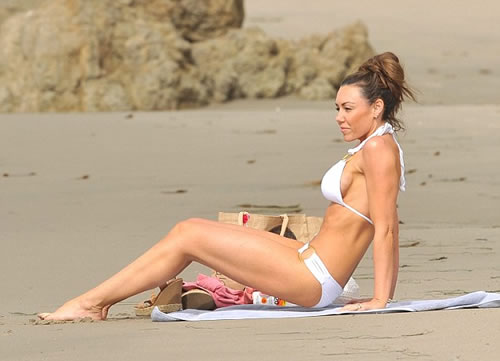 The star recently opened up about the cosmetic surgery following her operation last year, speaking to OK! Magazine she said: 'The breasts still don't feel like mine, it's the oddest feeling in the world. I think this is how they're going to be. I just have to come to terms with it and dress accordingly.' – Dailymail