She's due in less than a month with her second child. And Kendra Wilkinson is clearly enjoying her final weeks of pregnancy as she was spotted on Tuesday sunbathing in Santa Barbara, California, with her family. The 28-year-old displayed her heavily pregnant belly as she wore a yellow two-piece bikini for the fun day in the sun.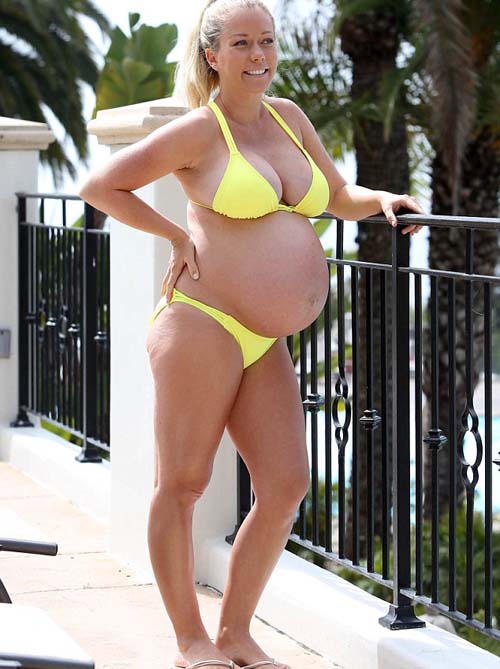 Wearing her blonde locks in a high ponytail, the television personality looked comfortable as she waded knee deep into the crystal clear water. Taking in the ocean views from the resort she was patronizing, the beauty gazed off into the distance as the brilliant Pacific lay below her privileged vista. Walking around in flip flops, the expectant mother dazzled with her signature bright smile as her four-year-old son Hank splashed around the pool.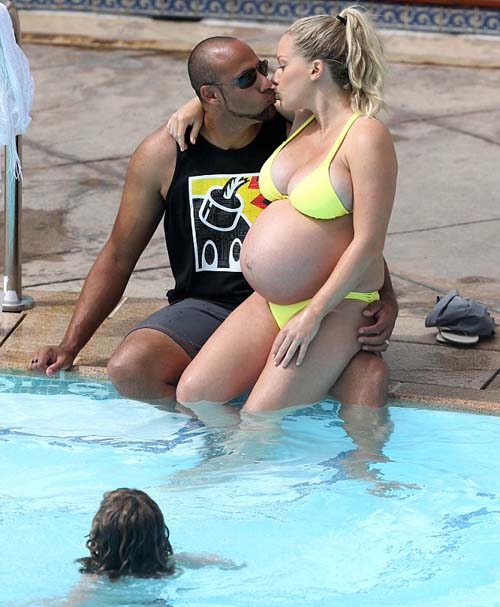 Her adorable boy wore simple red swimming trunks as his brown curls hung delicately over his shoulders. The elder Hank meanwhile, wore grey shorts and a tank top with a cartoon graphic of a bomb emblazoned across his chest. Later that same day the family took to the beach nearby for some fun in the surf. Kendra Wilkinson swapped out her yellow number for a pink bikini top and a simple tan coloured skirt.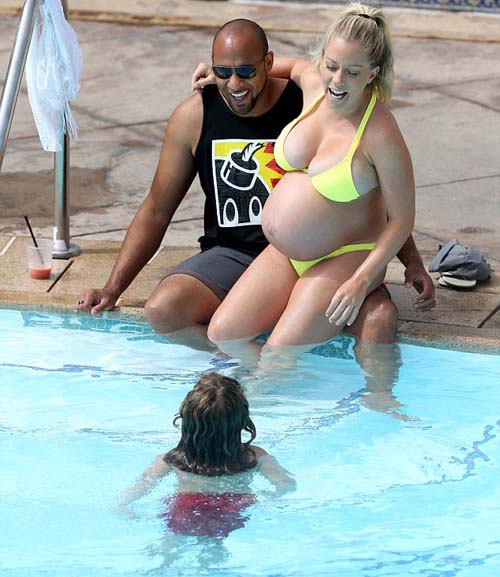 Her husband opted for a blue vest and white and black surfer trunks as their growing boy sported blue shorts. At one point little Hank touched his own belly comparing it to his mother's as his father snapped a selfie of the family's beach day. The trio walked hand-in-hand along the shore before taking a playful frolic in the sea with their two pups. But it soon got a bit chilly as the marine layer rolled in, casting a grey fog over the beach, prompting Kendra Wilkinson to cover up in a jumper along the rocky shore.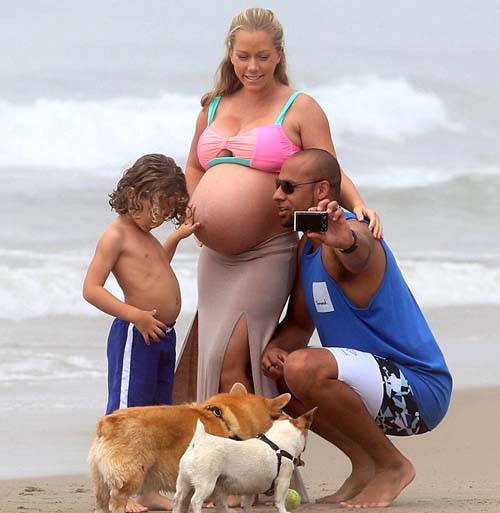 The self-proclaimed tomboy recently said about her coming little girl in the first of a new Moms & Babies blog series for People: ' I'd rather have my girl be a superhero than a princess. I don't want [my children] leaving the house without them knowing how to fight.' Furthermore, she's going to raise the child the way she was raised. 'I don't want her to feel like she has to be trapped in a girly-girl bubble,' Kendra Wilkinson has said.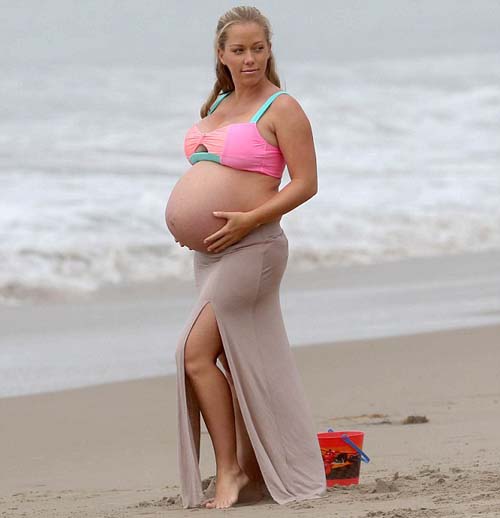 'We are going for unisex colours, like yellow and cream, and a unisex name. I am putting basketball shorts on her. Of course we are going to introduce her to princesses, but if she turns out girly it will be her decision. ' Meanwhile, Kendra Wilkinson recently vented her pregnancy feelings in the same blog post. She bemoaned her husband Hank's reluctance to have sex with her during her third trimester.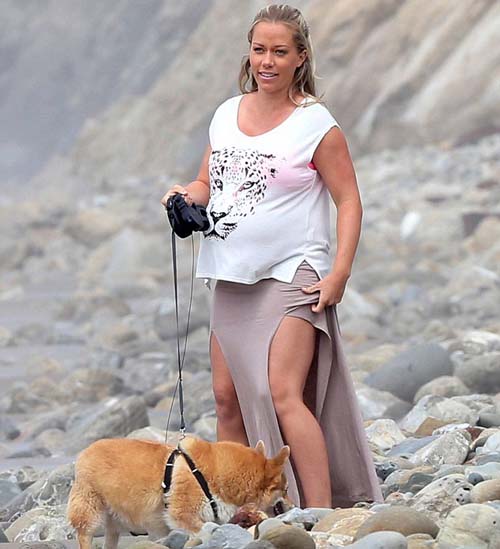 'I'm round, tired, grouchy, smelly and horny!' she declared, admitting that 'sex is lacking' from this pregnancy. The blonde bombshell confessed, in her characteristically candid fashion, that she sometimes feels her husband isn't attracted to her. 'Why would he want to touch me?!' she said. 'When I cough, I either fart, pee or cramp!' Kendra Wilkinson who has been married to former NFL player Hank, 31, for five years, added that in spite of this, he has been an 'amazing and supportive' husband and 'very hands on' with their four-year-old son, Hank Jr. –Dailymail