Autumn may have started this week, but Katharine McPhee appears to still be in the mood for summer. 
[contentblock id=1 img=adsense.png]
The Smash actress was spotted taking a dip in a swimming pool in Miami Beach on Saturday. The 32-year-old wore a black and white patterned bikini that left very little to the imagination.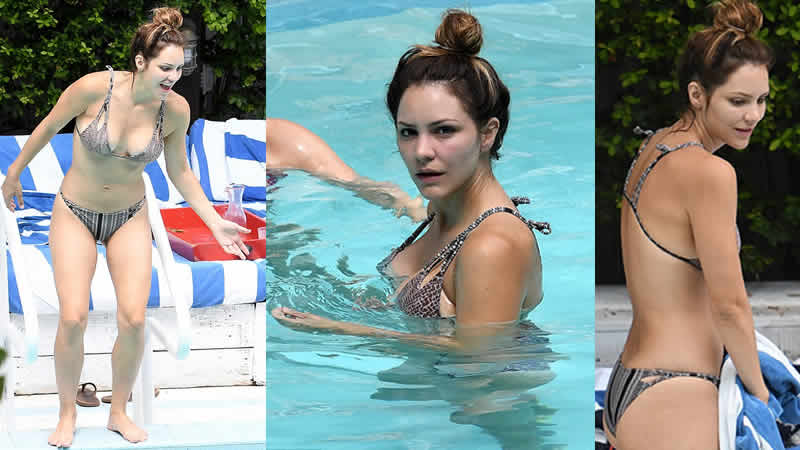 Her bottoms featured black straps of varying width on a white field. Between the straps were intricate black and white designs. 
The American Idol runner-up's top barely contained her bulging décolletage and was splashed with black spots, as well as a swirling pattern that ran up the straps.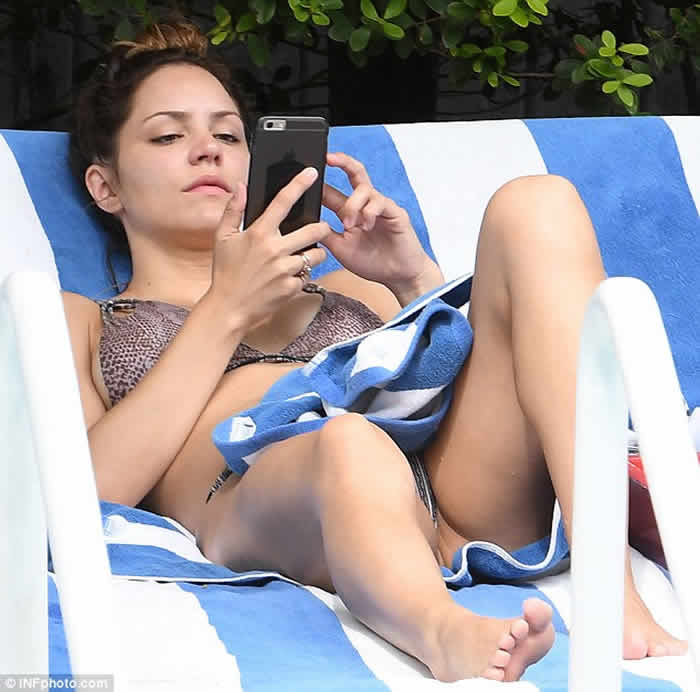 The Scorpion actress tied her hair up into a tight, high bun and gripped a pair of white rails as she dipped a foot in the water before sliding in. Last month, the Los Angeles gave an interview to Ocean Drive and expounded on her feelings about her body.  
[contentblock id=2 img=adsense.png]
When the conversation turned to plastic surgery, she conceded that 'I don't have super long legs, so if I could ever trade up, I'd add an extra half an inch to my legs.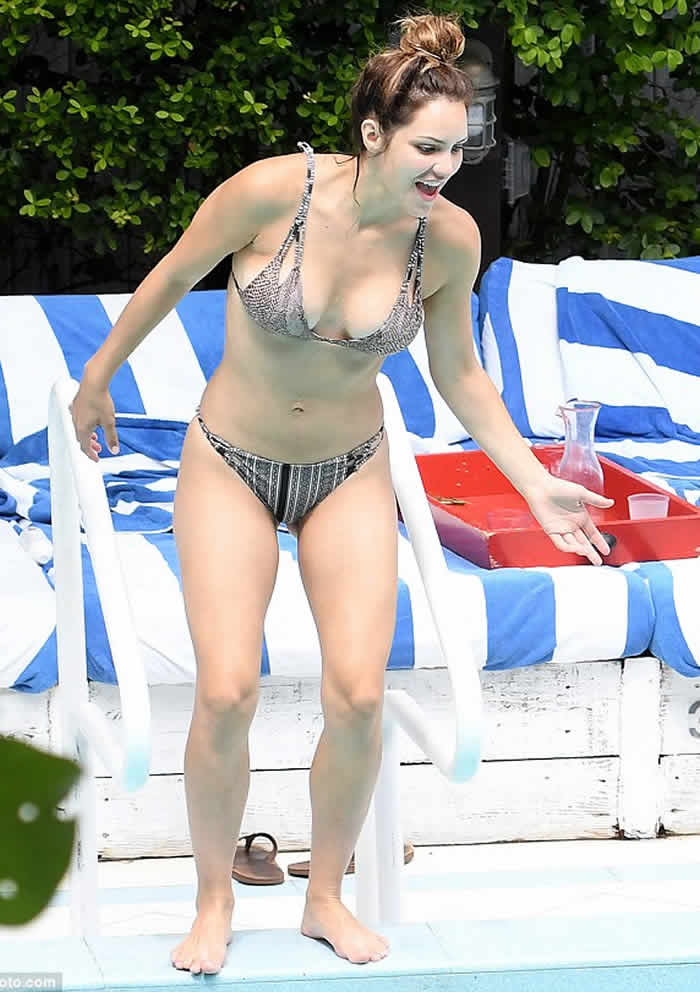 'She'd also spoken broadly on the subject, saying: 'I don't really have a problem with it, but I feel like the reason people don't want to talk about it is because there is this stigma on whether or not it is actually good work.' 
The Over It singer also noted that 'You look at all the work people have done in Hollywood; even when they look amazing, everyone wants to say, "Well, it looks amazing, but it's fake."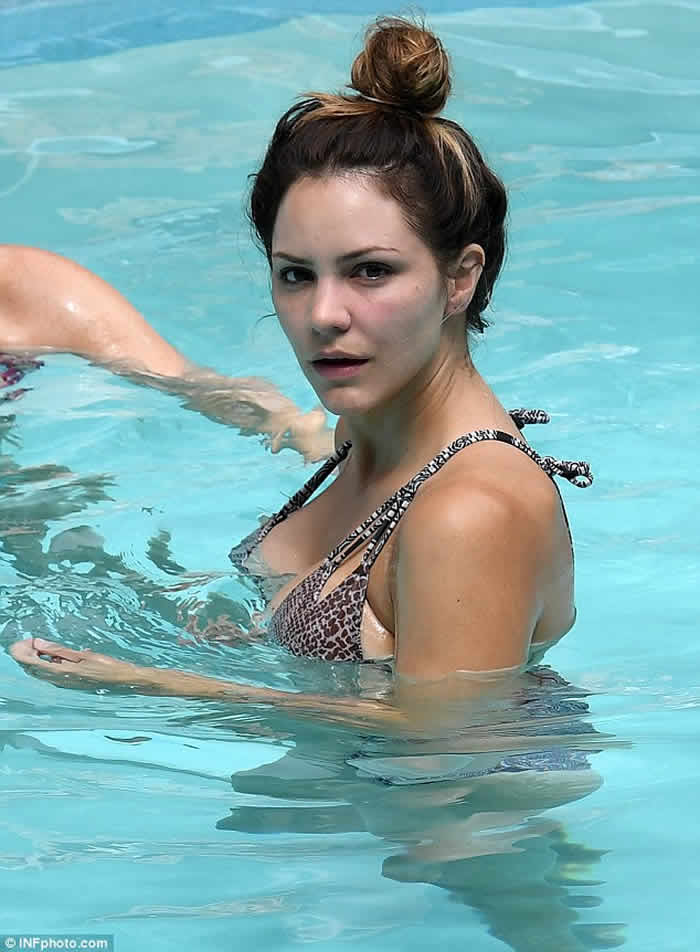 There is always this angle of trying to take people down.' In a diplomatic note, she told Ocean Drive that 'I'm not going to run out and get a face-lift anytime soon, but I don't know how I'm going to feel 20 years from now. 'I do believe in aging,' she continued.
[contentblock id=3 img=gcb.png]
'I think that there is nothing more unattractive than someone who just refuses to age. At some point you have to allow yourself to age a little bit.  Yet she confessed that 'I can't say that I won't want to look as good as I possibly can in any stage of my life.'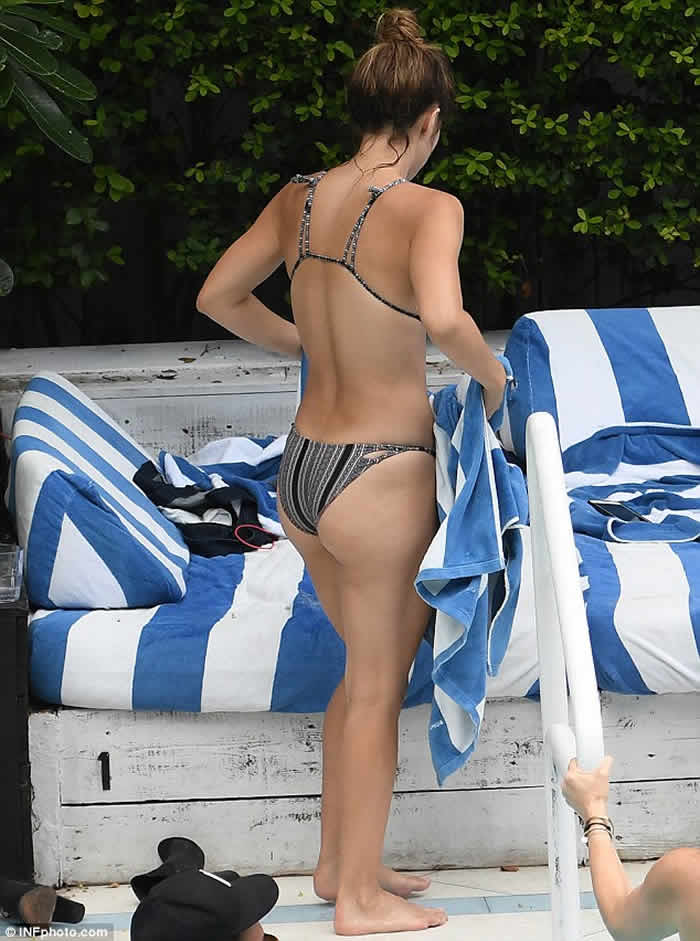 Via: dailymail