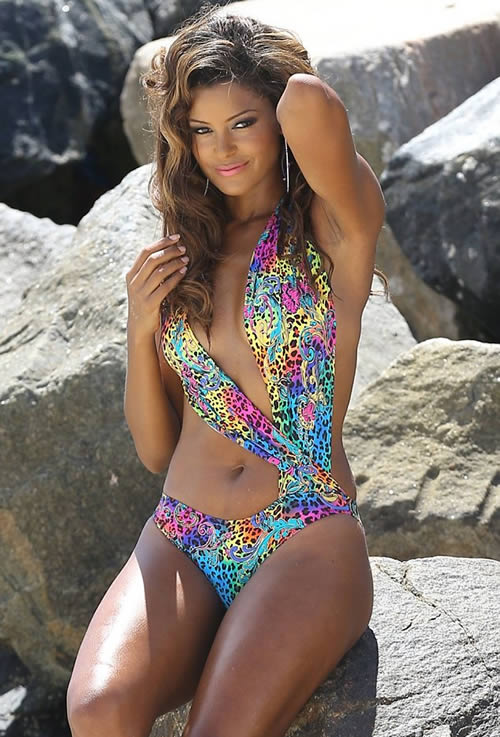 She seems to spend most of her life on one beach break after another so Claudia Jordan may as well get paid for it. The 40-year-old model took part in a photo shoot for K'Mone swimwear in Miami on Tuesday and it was obvious why she has no qualms about showing off her body.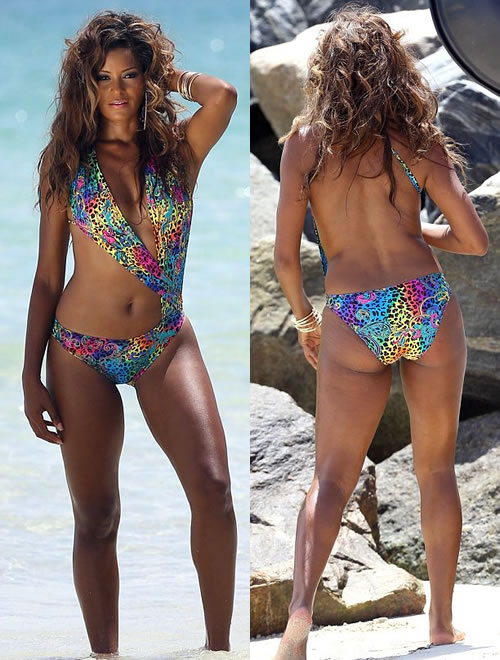 Claudia looked incredible in a dazzling array of beachwear including a revealing neon print one-piece, a bright patterned bikini, a daring green ensemble and a slashed to the navel leopard print bathing suit. With her long brown hair loose around her shoulders, and later tied back in a loose plait, Claudia looked confident in a variety of sultry poses on the beach, in the ocean and leaning against a fence.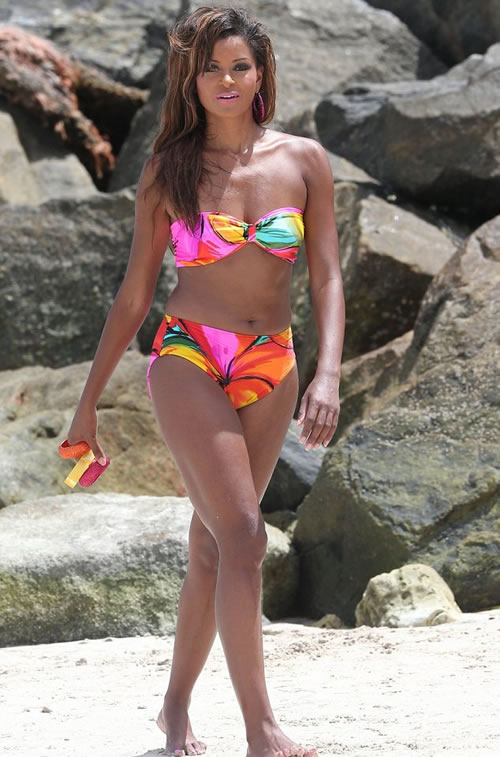 The striking 5ft 8in star also displayed a playful side, joking around with some dance moves to keep the mood upbeat on the exhausting shoot. She was attended to by a make-up artist who made sure Claudia's look was flawless and the star was obviously taken with the designs, posting a picture to Instagram with the caption 'Preview of today's shoot. Loved the colors! #MiamiBeach'.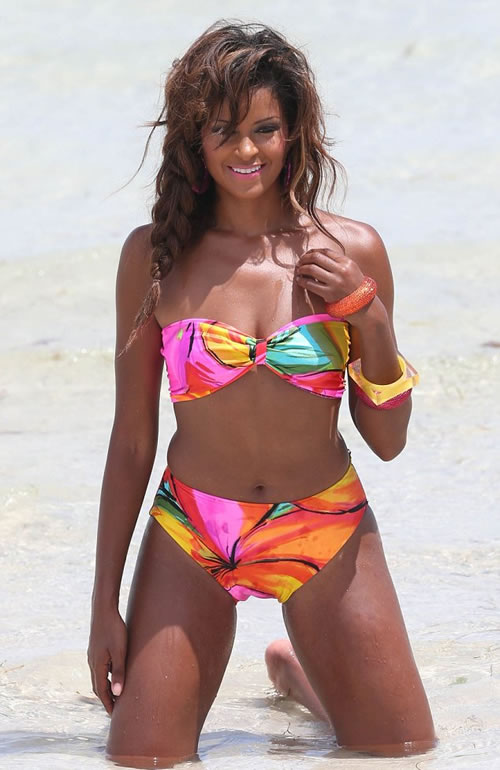 Designer Kimone Reid also updated her own Instagram account and wrote 'Very hot day it was on South Beach today with the beautiful @claudiajordan #paparazzi in full and live effect! 'it's official when you have all this plus a published #photographer @alaingreenphotography' Modelling is second nature to Claudia, who began her career when she won the Miss Rhode Island Teen USA 1990 title.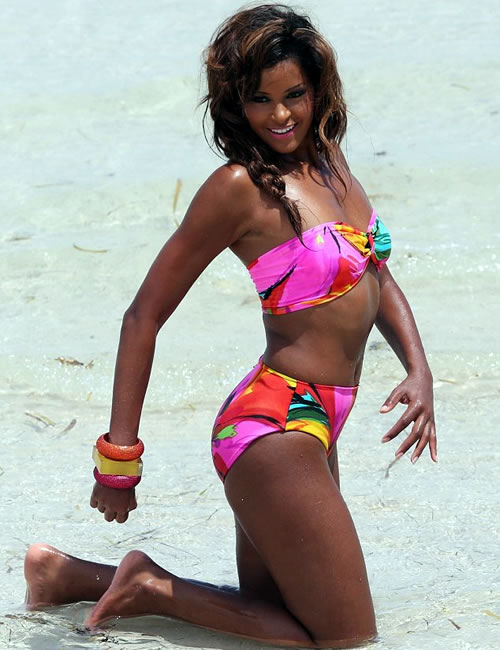 She is primarily famous for appearing as a model on the American version of Deal or No Deal and was also a former Barker's Beauty on CBS's game show The Price Is Right from 2001 to 2003. These days Jordan is known for her appearances on Season 2 and the recent All Star edition of The Apprentice. However, she most recently made headlines for an alleged altercation with the mother of Omarosa, her Celebrity Apprentice rival.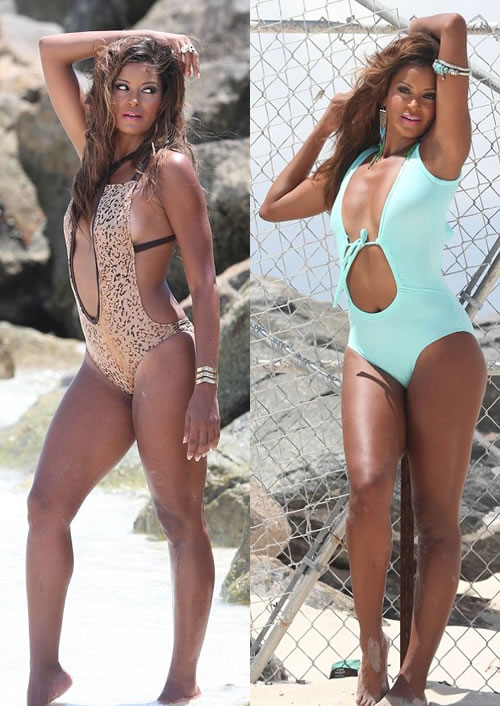 There has been bad blood between the two for some time but it got out of control at the BET Awards in Los Angeles in June when according to TMZ, Omarosa saw Jordan and called her a 'stupid b***h'. The spat continued between the two until Omarosa's mother intervened. 'She walked by and punched Claudia in the arm,' the website reported. Event security rushed over to break it up.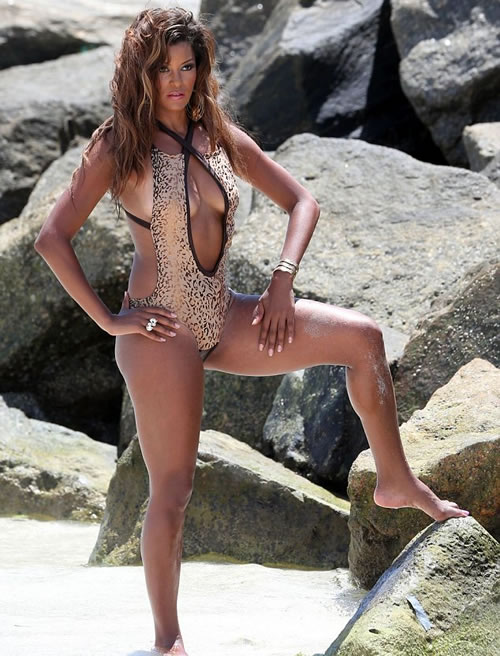 Claudia, who filed a police report, then tweeted, 'Wow, that awkward moment when you're assaulted on the red carpet.'  Omarosa, 39, countered that the fight started when Claudia pushed her 65-year-old mother – and then filed her own incident report with the police. 'I am deeply saddened by Claudia Jordan actions at the BET Awards,' she said. 'After all that my family and I been through this year. She should show at least an ounce of decency and respect '.
Tensions between the two reality stars have been brewing since last year, when the two had a falling out after Michael Clark Duncan's funeral.  Duncan, an actor, was Omarosa's fiancé and died of heart failure in September 2012. According to TMZ, Omarosa didn't like the fact Claudia posted a picture on her Instagram account of Omarosa laying him to rest. Claudia then countered that Omarosa was using the funeral as a press opportunity.
Source: Dailymail