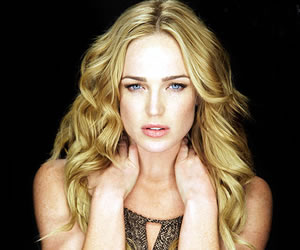 Caity Lotz is an American born talented young girl who is so sexy that she has stolen the hearts of zillions all over the globe within a very short period of time. Caity Lotz is a multi talented star whose dance, voice and acting skills have been appreciated by American audience as well as audience all around the globe. Caity Lotz is a complete package when it comes to entertainment and is becoming a huge name in the music industry in the US.
Caity Lotz is a San Diego baby as she was born there in California and is a dancer, singer, model and actress all at the same time.  She was born on the 30th of December in the year 1986 and she is 25 years of age. Caity Lotz began to gain fame when she starred in the sitcom on the famous channel MTV's television series Death Valley. Caity Lotz played the character of an officer named Kirsten Landry in this serial. This role in the series made her gain all the fame in just a few months. Her acting skills and beauty were adored by almost everyone. The most amazing fact about Caity Lotz is that this young and vivacious lady performed all her stunts by herself while working for the serial Death Valley.
Caity Lotz has also appeared in the very famous film Bring it on: All or Nothing. She appeared as a cheerleader however, her role in the film was not such a big one, but she still got appreciation in some way or the other. The movie was a huge success. Caity Lotz has been working with very big names including Lady Gaga and Avril Lavigne and she has also performed in a lot of shows with the two famous singers. Her appearances in music videos with Selena Gomez, Lady Gaga, David Guetta and many others have been some really important ventures of Caity Lotz's career. She also appeared in two other serials but not as the leading character. These serials include Law and Order: LA and Mad Men.
Caity Lotz also has an official website with over a thousand viewers every day. She is a seductress in her own way. The young blood and energy in her work surely shows and is paying off well.  Caity Lotz is an expert of martial arts too. She enjoys martial arts' types including Wushu, Taekwondo and Muay Thai. Caity Lotz enjoys hot chocolate a lot as it her favorite.  Caity Lotz believes in the fact that one should be really original from within and she expects guys to be this way too. We wish Caity Lotz all the very best for her upcoming ventures and hope to see more of this stunning beauty in the near future.