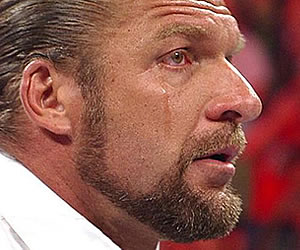 Triple H has been one of the most decorated wrestlers in the history of professional wrestling.  In a business that is based off the character you can play, he made his mark.  Monday night, he announced his "retirement" from the business, thanks in part to his loss to Brock Lesnar.
Will this be the last we see of Triple H?  Of course not.  In actuality, he is the guy pulling most of the strings these days.  When Vince McMahon finally goes off the deep end, the company will end up in the hands of his son-in-law.  He actually has a great mind for the world of wrestling and has tried to improve the product recently.
I bet this retirement does not last long, though. There are rumors that he will be back for Wrestlemania or even a pay-per-view before that. In wrestling, you are never really retired. You show up, you wrestle a one-off match to put some guy over, and collect a paycheck.  It happens over and over and over again.
Expect The Game to return sooner rather than later. It was an interesting moment, but I personally am not a fan.  He is in this position for a reason. He loves the attention.  He thinks he is the best man for the job and always ends up in the key situations. If not, he probably wouldn't have all the accolades that he has right now. – Rantsports