Actor Tom Cruise sealed his reputation for performing his own dangerous stunts as "Mission Impossible" footage of him riding a motorbike off a treacherous cliff stunned movie theater bosses at their annual convention Thursday.
Paramount used its slot on the final day of CinemaCon trade show in Las Vegas to present clips from its upcoming features "Mission: Impossible 7" and "Top Gun: Maverick," with the two films' star Cruise appearing remotely via video.
"This is far and away from the most dangerous thing we've ever attempted," said Cruise, introducing the stunt.
"We've been working on this for years. We're going to shoot it in Norway and it will be a motorcycle jump off a cliff into a base jump."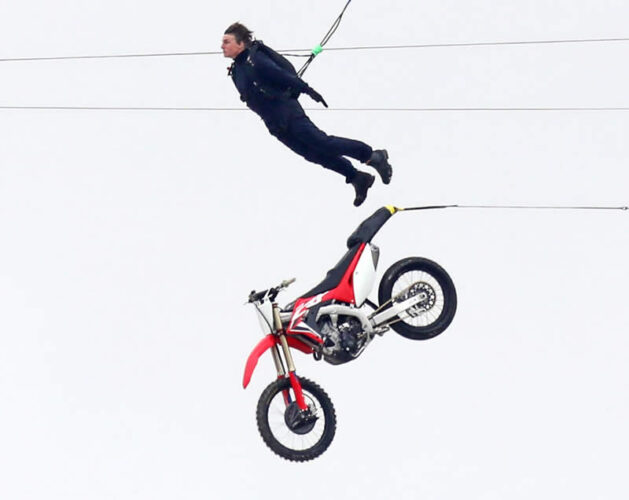 "I've wanted to do this since I was a little kid."
Behind-the-scenes footage showed Cruise preparing by performing more than 500 skydives and 13,000 motocross jumps before traveling to an elaborate ramp constructed on a remote Norwegian cliff to shoot the stunt itself.
The film's director, Christopher McQuarrie, nervously watched through his hands as Cruise successfully opened his parachute and landed safely before proclaiming: "I think I can hold onto the bike a little longer."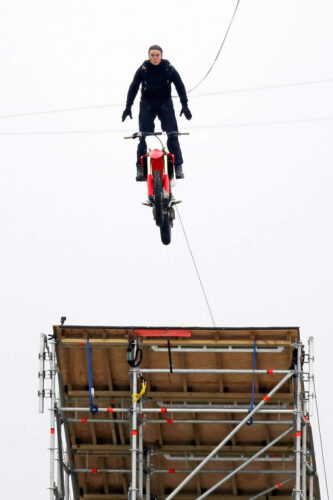 The 59-year-old Cruise, one of Hollywood's biggest stars for the past several decades, famously performs many of his own stunts, breaking his ankle during one hair-raising leap for the previous installment "Mission: Impossible — Fallout."
He was also center-stage in footage from the long-awaited sequel to 1986 smash hit "Top Gun."
Attendees were shown the film's opening 13 minutes, in which Cruise's Maverick tests out a futuristic and experimental supersonic jet in defiance of his US Navy admiral, who wants to shut down the secretive program and replace it with unmanned drones.
A new trailer for the film showed Cruise teaching a new generation of fighter pilots.
The actor previously revealed in January 2019 that the seventh and eighth Mission: Impossible films will be shot back-to-back with Christopher McQuarrie writing and directing both films.
Mission: Impossible 7 was originally scheduled to be released on July 23, 2021, but has been pushed back to a new release date of May 27, 2022, amid the current health crisis.