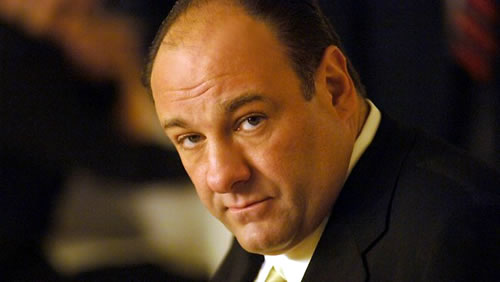 James Gandolfini has died of a suspected heart attack while on holiday in Italy at the age of 51. The star was best known for his Emmy-winning portrayal of New Jersey mob boss Tony Soprano in television series The Sopranos. He died on Wednesday in Rome, and had been due to appear at a film festival in Sicily at the weekend. No cause of death has been given, but unconfirmed reports suggested a heart attack or stroke.
Sopranos creator David Chase said Gandolfini was one of the greatest actors of all time. "He was a genius. Anyone who saw him even in the smallest of his performances knows that. "He is one of the greatest actors of this or any time. A great deal of genius resided in those sad eyes." Gandolfini married former model Deborah Lin in 2008, and their daughter was born last year. He also has a son from a previous relationship.
Many fans have flocked to the diner featured in the final scene of The Sopranos to pay their respects. TV network HBO, which was behind the hit series, described him as a "special man" and a "great talent".  "We're all in shock and feeling immeasurable sadness at the loss of a beloved member of our family," a statement said. "He was a special man, a great talent, but more importantly a gentle and loving person who treated everyone – no matter their title or position – with equal respect."
Since The Sopranos ended in 2007, Gandolfini has appeared in a number of big-screen roles, including thriller Zero Dark Thirty and the comedy The Incredible Burt Wonderstone. Gandolfini also shared a Broadway stage in 2009 with Jeff Daniels, Hope Davis and Marcia Gay Harden in a celebrated production of God Of Carnage, where he earned a Tony Award nomination for best actor. He also was in On The Waterfront with David Morse. At the time of his death, he had been working on a new HBO series titled Criminal Justice.
"It is with immense sorrow that we report our client James Gandolfini passed away today while on holiday in Rome, Italy," his managers said in a statement. "Our hearts are shattered and we will miss him deeply. He and his family were part of our family for many years and we are all grieving." In a December 2012 interview, Gandolfini said he gravitated to acting as a release to get rid of anger. "I don't know what exactly I was angry about," he said. "I try to avoid certain things and certain kinds of violence at this point. "I'm getting older, too. I don't want to be beating people up as much. I don't want to be beating women up and those kinds of things that much any more." – Skynews