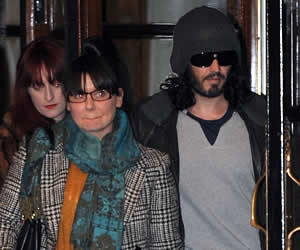 Somber Russell Brand just made an exit from the London's Savoy Hotel after few hours of filing divorce to his 14 months wife Katy Perry.
The 36 years old British comic Somber Russell Brand was wearing black sunglasses and a gray woolen cap while leaving the luxury hotel. He spent his New Year's Eve in the hotel room by watching the West Ham soccer team play against Derby. He was also spotted without wedding ring.
After filing divorce to wife Katy Perry, Somber Russell Brand made the statement: "Sadly, Katy and I are ending our marriage. But I'll always adore her and I know we'll remain friends."
Somber Russell Brand and Katy Perry were married on October 23, 2010 in India.