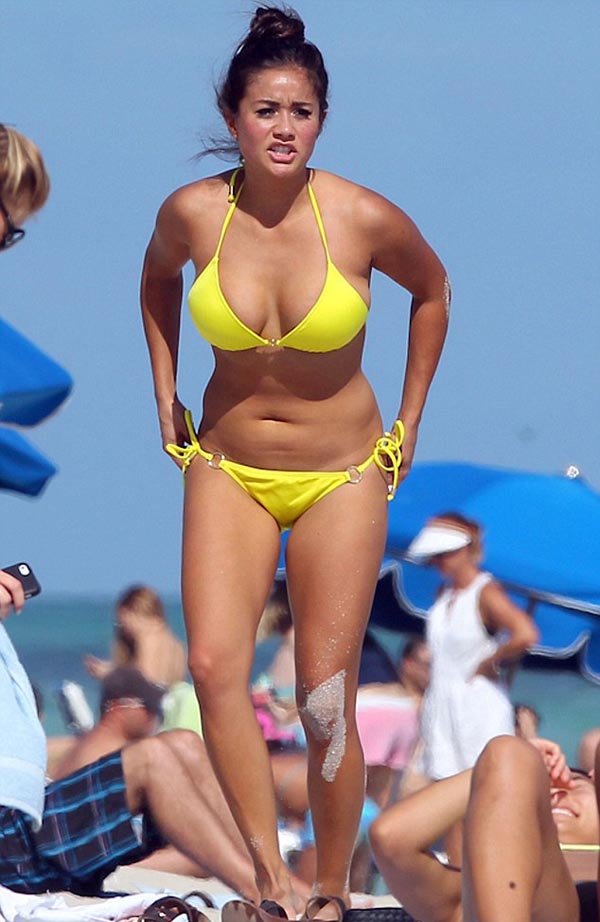 Looks like constant workouts in preparation for her January 26 wedding to Bachelor star Sean Lowe have paid off. On Saturday Catherine Giudici looked sizzling in a neon yellow bikini as she sunbathed with friends in Miami.
The day out was part of a weekend long bachelorette celebration with over a dozen girlfriends. On Sunday the 27-year-old tweeted, 'Life is fun. I am lucky to have the coolest chicks to call my friends!' The Seattle beauty – who now resides near Sean, 29, in Texas – was almost spilling out of her two piece but managed to keep it all together, avoiding a bikini malfunction.
Her legs looked especially toned as she walked on the beach. The graphic designer, who has been working out with a personal trainer, has less than six weeks before she will slip into her wedding gown but it looks like she's already in perfect shape for her walk down the aisle. The reality star was supposed to head to Florida on Thursday, but her flight was delayed.'
If I'm stuck in the airport because of the ice warning, you can find me at the bar in my neon bikini and Uggs,' she joked on Wednesday. The next day she wrote, 'Adrenaline rush began early – flight canceled, had to notify all 15 of my girls, got rebooked, and it's only 10:30am. Off to pack the goods! She made the most of it by having dinner with five friends and sending out Instagram photos from her experience. By Saturday she was partying in Miami at Katsuya inside the SLS Hotel where she ordered sushi, sashimi and indulged in the restaurant's Kiwi Envy cocktail.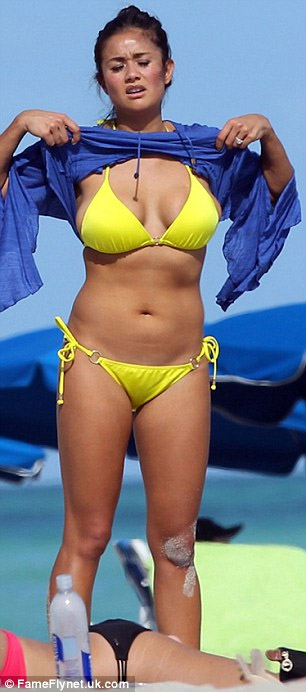 She shared photos of her big dinner, clinking champagne glasses with her posse as she showed off a flirty cocktail dress paired with a bib necklace. She was smiling from ear to ear as she partied on with her attractive group of pals that included at least one of her sisters. On another night out she was seen pretending to drink from a large bottle of Dom Perignon as she sported a neon mini dress. With her hair worn down and sporting oversized gold earrings, she looked every inch the Florida party girl. By Monday she was missing her fiance as she tweeted, 'Still here and the only thing to complain about is not being with my man. Sigh.' -Dailymail