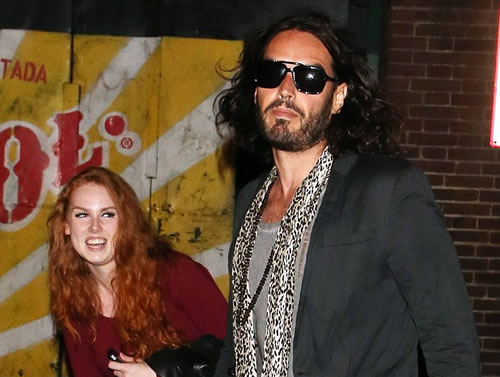 It seemed as though he was turning a new leaf when he was linked to his long-term stylist earlier this month. But after he was spotted getting cosy with a mystery girl at his gig's after-party last week, Russell Brand has struck again – this time with glamour model Sophie Coady.
Brand attempted to keep his head down as he was spotted leaving the Love Shake pub in east London on Sunday night. Wearing his trademark leather trousers with a grey T-shirt, black blazer and printed scarf, Brand did his utmost to go unnoticed.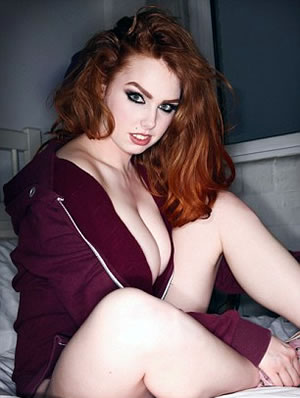 Sophie, meanwhile, appeared more amenable to the attention from the waiting photographers which, given her profession, is unsurprising. The 22-year-old redhead wore a red top with a patterned pencil skirt, bow-print black tights and brown boots for the night out, smiling widely as she stayed close to her new beau.
Sophie, whose cleavage is a staggering size 32GGG, has made a name for herself as a glamour model and has featured in magazines including Nuts and Front. Russell has something of a penchant for glamour models, and has previously been romantically linked to beauties Brooke Adams and Imogen Thomas.
The comedian's night out with Sophie comes after he was last week seen disappearing with a pretty brunette after the pair looked to be flirting up a storm at a party following his gig at London's Soho Theatre. According to eyewitnesses the two disappeared in to a side room at one point, not emerging back into the main bar for 20 minutes.
And the encounter with the mystery brunette comes amid claims he has been romancing his stylist and friend of ten years Nicole Schuller. The two were spotted in a very public display of affection last month in Hollywood, where they locked lips over a cosy lunch.
Speaking about the star's budding romance with the mum-of-one, a source told The Sun: 'Nicola's been Russell's good friend for years and was his shoulder to cry on through his divorce from Katy Perry, and splits from other women.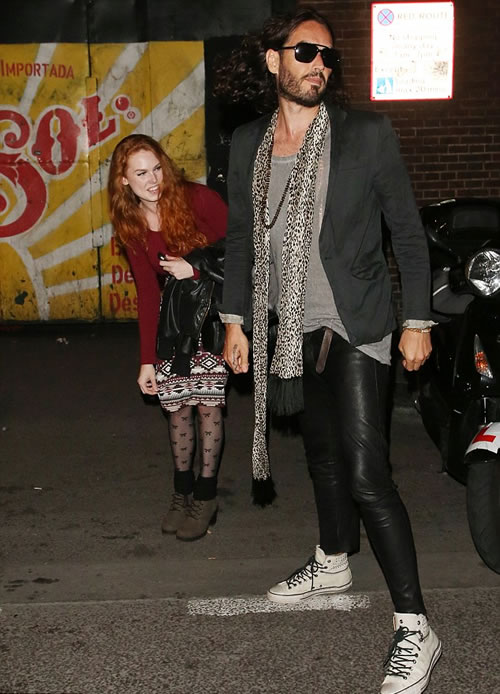 'But in the last few weeks things between them have got a lot more hot and heavy than just friends. The way they were kissing in public speaks for itself.'
Via: Dailymail